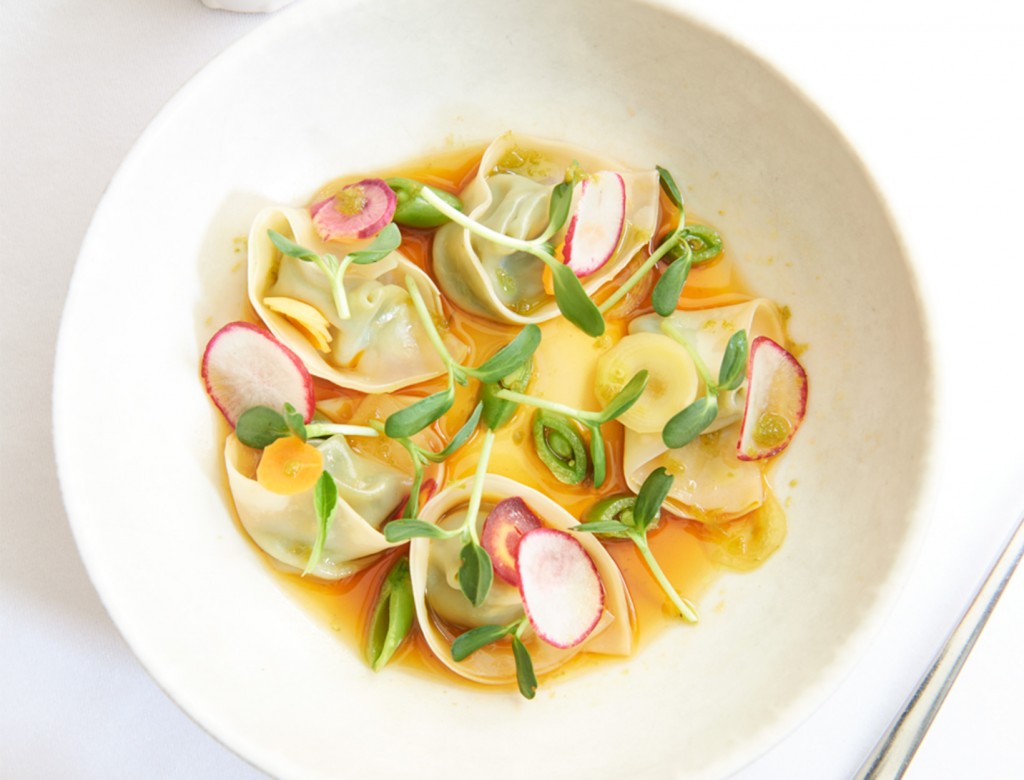 Nix's Mint and English Pea Dumplings
These veggie dumplings taste like spring on a plate. Although they take a bit of prep, once the sauces and fillings are made, they're easy to put together and the recipe makes A LOT of dumplings. Delicious plain, these are even better (and so pretty) garnished with sturdy sprouts, shaved carrots, and thinly sliced snap peas.
1. First, make the ginger-scallion oil. Combine the ginger and oil in a small saucepan and cook over medium-low heat until the oil approaches a simmer. Remove from the heat and let stand 15 minutes, then strain.
2. Blend the ginger oil, tamari, and scallion ends until smooth. Set aside until ready to use.
3. To make the dumplings, combine the first five ingredients in powerful blender and blitz until smooth. Make sure to keep the mixture cold or it will begin to discolor.
4. Place 1 tablespoon of filling in the center of each dumpling wrapper. Brush the perimeter of the wrapper with a little water. Fold dumpling in half (should look like a half moon), and then again to attach the ends together.
5. Using a bamboo steamer, place 5 dumplings in each basket and steam for 5-7 minutes until the wrapper is opaque.
6. While the dumplings cook, make the chili-soy vinaigrette. Whisk together all ingredients and store in a squeeze bottle.
7. To serve, arrange 5 steamed dumplings in a shallow bowl. Pour over ¼ cup of chili-soy vinaigrette then drizzle with ginger-scallion oil.
Originally featured in Nix's Addictive Vegetarian Dumplings