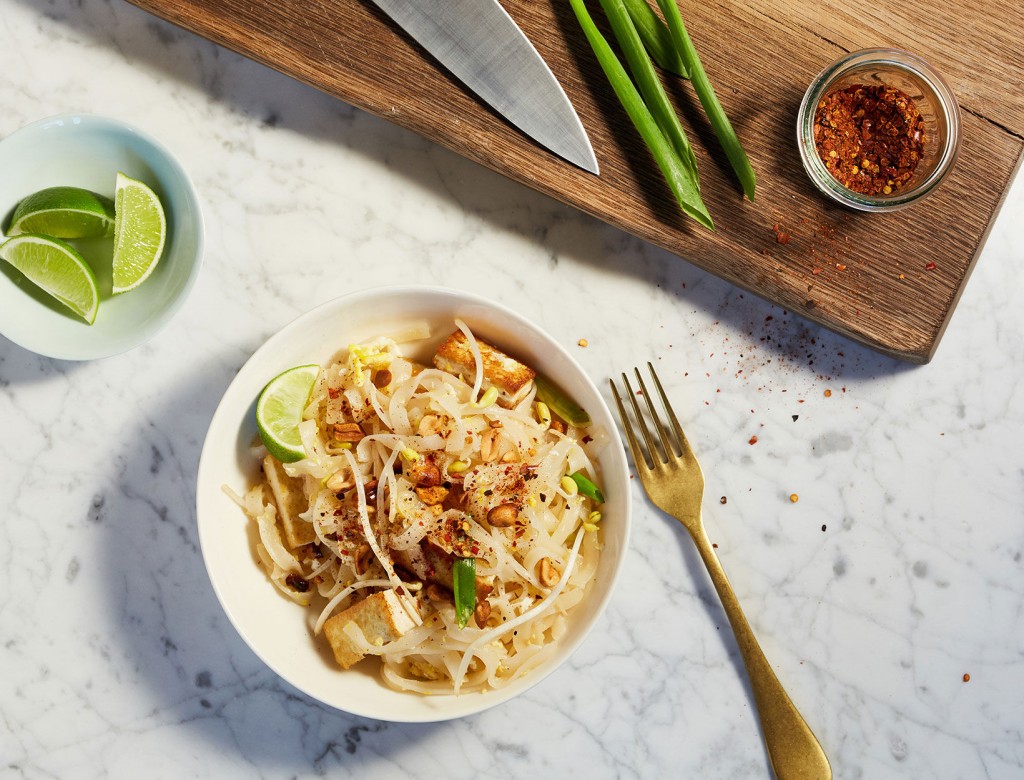 Night + Market Pad Thai
We were so excited to learn how easy Night + Market's famous pad Thai is to make at home. If you don't have a wok, just use the biggest sauté pan you can find.
4 ounces dried rice stick noodles (⅛ to ⅓ inch wide)
2 tablespoons sugar
2 tablespoons fish sauce
2 tablespoons distilled white vinegar
3 tablespoons vegetable oil
¼ pound extra-firm or pressed tofu
1 egg
1 cup bean sprouts
2 scallions, cut on an angle into 2-inch slices
2 tablespoons crushed seasoned fried peanuts or roasted peanuts
1 teaspoon dried Thai bird's-eye chili or chili flakes
1 lime wedge
1. Soak the noodles in warm water for 30 minutes, until pliable enough to bend around a finger. If you're not using them immediately, you can drain the noodles and keep them in the fridge until ready to use.
2. In a small bowl, stir together the sugar, fish sauce, and vinegar to make a sauce.
3. Heat an empty wok over high heat until it begins to smoke, then swirl in the oil. Once the oil is shimmering, add the tofu and stir-fy until golden, which should take a few minutes. Add the noodles and a splash of water to help them start cooking. Add the sauce, then continue to stir-fry, constantly stirring, until the noodles absorb the sauce, about another minute.
4. Use your spatula to push aside the noodles and leave them there, making an empty space in the center of the wok. Crack an egg into the empty space and let it cook until the edges start to set, 15 to 20 seconds. Use the edge of your spatula to break up and roughly scramble the egg, then toss it back in with the noodles while the egg is still soft. Once the egg looks mostly cooked, remove the heat and throw in the bean sprouts and green onions, tossing thoroughly to combine.
5. Transfer to a plate and garnish with the peanuts, chili powder, and lime wedge.
Originally featured in The Noodle: Two Classic Thai Dishes Face Off