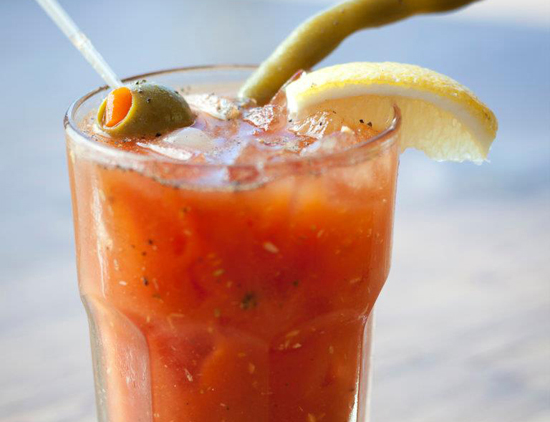 Nick's Bloody Mary
In West Marin, this spicy Bloody Mary from Nick's Cove is a classic.
for assembly – makes 1
2 oz Charbay vodka
12 oz of The Mix (see below)
tabasco (1 tablespoon if you like them spicy; 1⁄2 tablespoon if not)
1 pimento-stuffed green olive
1 cocktail onion
1 lemon wedge
1 pickled green bean (see below)
ice
for the mix – makes 16 servings
1⁄4 teaspoon chili flakes
1⁄4 teaspoon cumin
1⁄4 teaspoon coriander
1⁄4 teaspoon celery seed
1⁄4 teaspoon black peppercorns
1 46-oz can of tomato juice
6 oz lemon juice
4 oz Worcestershire sauce
1 tablespoon horseradish
4 bay leaves
salt
for pickled green beans – makes about 16 servings
1 gallon Champagne vinegar
1/2 gallon water
1/4 cup red chili flakes
4-5 jalapeño peppers, sliced
pinch cayenne pepper
2 cups salt
2 cups sugar
1 lb green beans
1. For the mix: In a spice grinder, combine the first 5 ingredients and puree into a fine powder. Empty the tomato juice into a container and add the spice mix, the lemon juice, the Worcestershire and the horseradish. Add the bay leaves and salt to taste. Stir thoroughly. Keep unused portion covered and refrigerated.
2. For the beans: Bring all ingredients, except green beans, to a boil and cook 8-10 minutes until all salt and sugar is dissolved. Cool liquid in refrigerator, then pour over beans. Let beans sit in the liquid for 8 hours or more before using.
3. To assemble: Pour vodka and ice into pint glass, fill the rest of the glass with the mix, and garnish the drink with an olive, onion, lemon and a pickled green bean.
Originally featured in West Marin