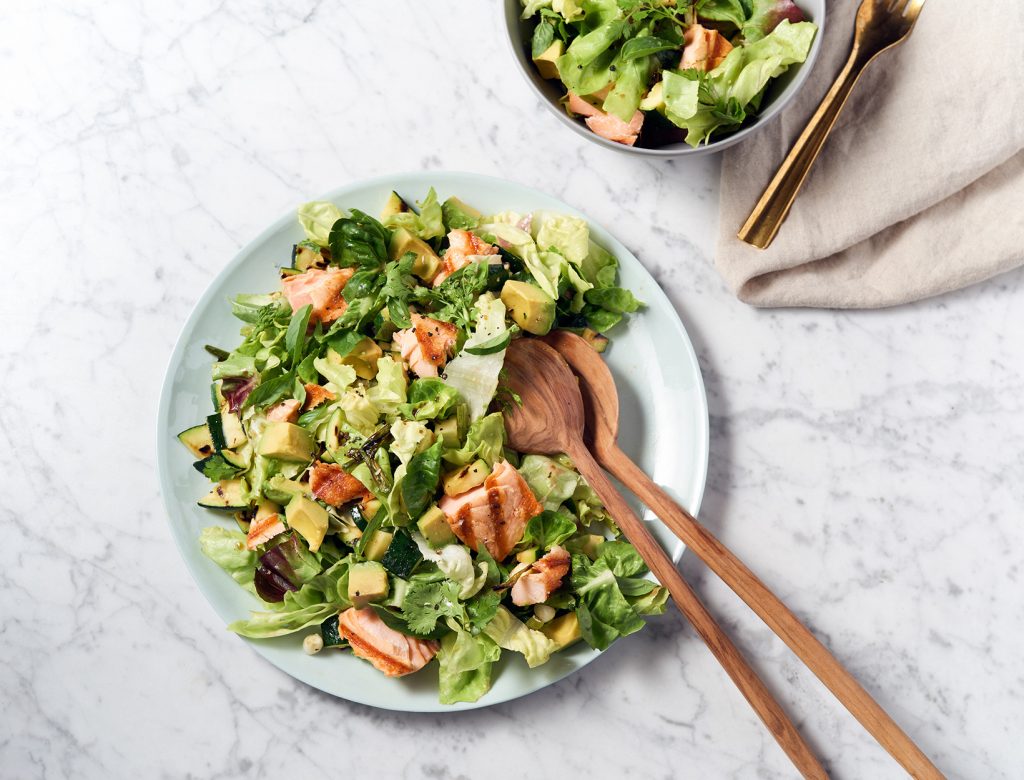 My Ivy Chopped Salad Reinterpreted
This interpretation of "My Ivy Salad" from My Father's Daughter is a detox-friendly combo of delicious hot and cold ingredients.
1 large avocado
3 medium zucchini, sliced lengthwise into ⅓-inch-thick slices
1 bunch scallions, white and light green parts only
2 chicken breast or salmon fillets (6 oz each)
3 tablespoons extra-virgin olive oil
coarse salt
2 heads butter lettuce, leaves separated, cut into thick strips
⅓ cup fresh cilantro, roughly chopped
¼ cup fresh basil, roughly torn
1 lime, quartered
for the clean balsamic & lime vinaigrette:
2 tablespoons balsamic vinegar
1 tablespoon brown rice syrup
1 tablespoon fresh lime juice
6 tablespoons olive oil
coarse salt
freshly ground black pepper
1. Whisk vinegar with brown rice syrup and lime juice in a bowl. Slowly whisk in oil; add salt and pepper to taste. Set aside.
2. Heat a grill or grill pan over medium-low heat.
3. Rub zucchini, scallions and chicken or salmon with oil; sprinkle with salt.
4. Grill vegetables and protein for about 20 minutes until browned and cooked through, flipping once.
5. Cut zucchini and scallions into a medium dice.
6. Slice avocado in half, discard pit and dice.
7. Break chicken or salmon into large pieces.
8. Toss grilled vegetables with lettuce, avocado, cilantro and basil; place on a large platter and top with salmon.
9. Drizzle with vinaigrette; serve with lime quarters.
Original recipe from My Father's Daughter.
Originally featured in Healthy Recipes