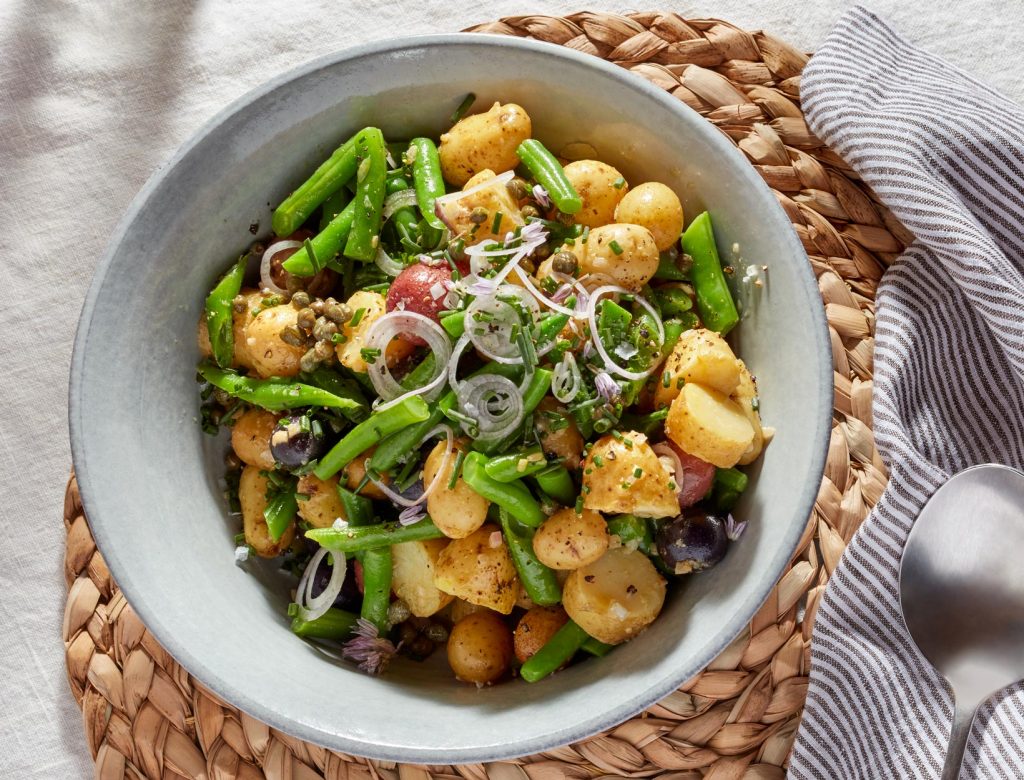 Mustard Potato Salad with Green Beans
This French-style potato salad is lighter than the mayo-laden deli standard, and it's got great bright flavor from the mustard, shallot, vinegar, and capers. It's hearty enough to work alongside a burger but refined enough to be served with a whole grilled fish.
for the dressing:
¼ cup diced shallots
½ tablespoon lemon zest
½ teaspoon minced garlic
½ tablespoon Dijon mustard
¼ cup olive oil
2 tablespoons red wine vinegar
for the salad:
2 pounds waxy new potatoes
2½ cups blanched string beans, roughly cut into bite-size pieces
1½ teaspoons salt
¼ cup capers
1 small shallot, thinly sliced
to garnish:
¼ cup finely chopped chives
1. Add potatoes to a large pot of water. Add a big pinch of salt and bring to a boil over high heat. Cook until tender but still firm (about 20 minutes). Drain and let cool slightly.
2. In a blender, combine all the ingredients for the dressing and blend on high.
3. In a large bowl, combine the still-warm potatoes with the dressing, tossing well until all the potatoes are coated. Then add the rest of the salad ingredients, tossing to combine (if the potatoes have soaked up the dressing, adjust here by adding another glug of olive oil or splash of vinegar as needed). Garnish with chives.
Originally featured in The 4 Best Vegetable Sides for a BBQ