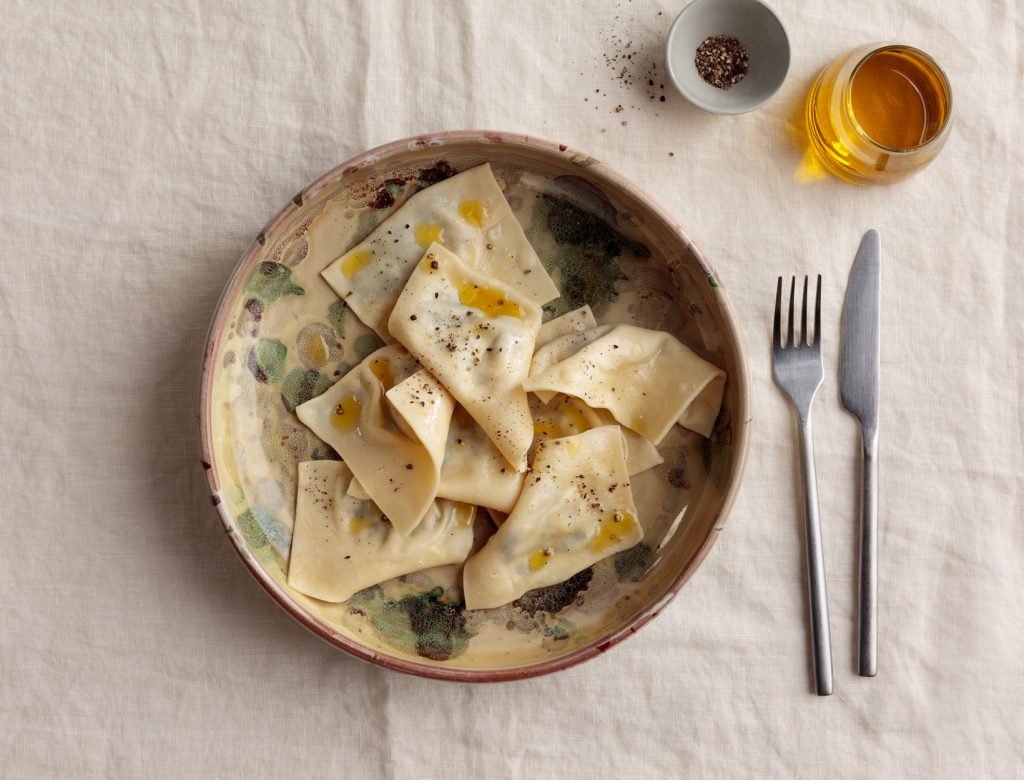 Mushroom, Greens, and Goat Cheese Ravioli
The flavors of these ravioli are so well balanced: umami-rich mushrooms, earthy spinach, and tart yet creamy goat cheese. So you don't really need much for sauce. Just a little olive-oil-and-butter pan sauce and you're good to go.
1. In a large saucepan over medium heat, heat 2 tablespoons of olive oil, then add the mushrooms and garlic, cooking until the mushrooms are lightly browned, about 5 minutes. Reduce heat to low and simmer until mushrooms are tender (6 to 10 minutes), then add spinach and cook until wilted and fully combined with the mushrooms and garlic. Transfer sautéed mushroom-and-spinach mixture to a medium bowl. Once mixture has cooled, add goat cheese and salt.
2. Slice the dough into quarters. Take the first quarter and feed it through the pasta machine on the widest setting. Keep feeding the pasta through the machine, turning the knob until you reach the narrowest setting. The dough should be paper-thin. Cut the sheets of dough in half lengthwise. Lay sheets on a clean, flour-dusted surface. Place a teaspoon of filling at 2-inch intervals along the dough. Fold the dough twice over the filling until you have 1 long parcel. Using a pizza cutter, slice the parcel into ravioli, and seal the edges by pressing down on them with your fingers. Repeat with the rest of the dough and filling. To cook, drop the ravioli in salted boiling water and cook until they rise to the top, about 5 minutes. Reserve cooking water.
3. In a medium saucepan, melt the butter and add the remaining olive oil. Gently toss the cooked ravioli in the pan with a splash of the ravioli cooking liquid to thicken the sauce. Finish with cracked black pepper and salt.
Originally featured in Homemade Tortellini, Ravioli, and Agnolotti: Easier than You Think