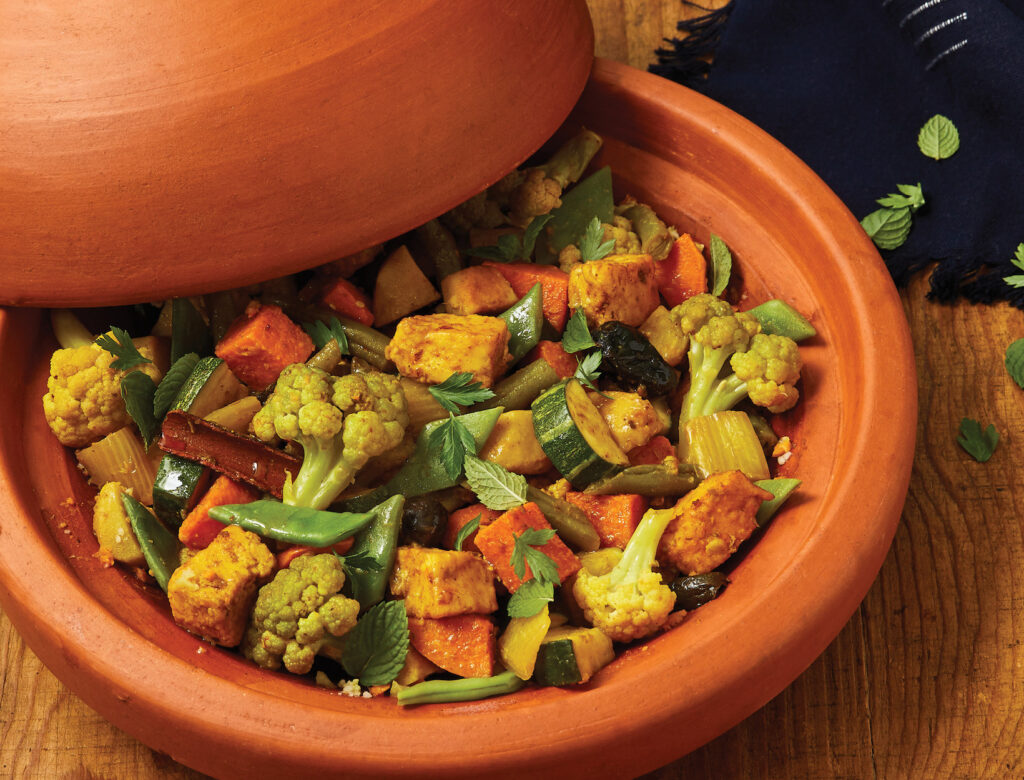 Moroccan-Style Vegetable Tagine
I'm very grateful to my friend and colleague Michael Burdi for introducing me to Moroccan and Middle Eastern cuisines. With the richness of spices and clay-pot cooking methods, a lot of their dishes come very close to the Ayurvedic principles of cooking.
Tagine is the name of the traditional earthen pot that this dish is cooked in. The dome-shaped lid helps circulate all steam condensation back to the bottom of the pot, thus allowing the food to cook with minimally added water. The main trick is to cook it slowly.
This dish has such bright, warm colors—a joyful display of Moroccan art. You can serve it with plain basmati rice or cooked millet instead of the traditional couscous or with flatbread. A lime pickle is a delicious condiment with this dish.
5 pitted prunes
¼ teaspoon coriander seeds
½ teaspoon cumin seeds
2 tablespoons ghee
½ cup (¼-inch) dried fennel bulb
1 tablespoon minced fresh ginger
1 (2¼-inch) stick cinnamon
⅛ teaspoon asafetida
10 ounces (1½ cups) pressed paneer cheese, cut into ¾-inch cubes
2 teaspoons salt
¼ teaspoon paprika (optional)
¼ teaspoon ground turmeric
⅛ teaspoon saffron strands
2½ pounds vegetables, cut into ¾-inch pieces (taro root, cauliflower, green beans, zucchini, and sweet potatoes; about 1 cup each)
8 pitted green or black olives, cut in half
to garnish:
olive oil
2 tablespoons chopped fresh parsley
1 tablespoon chopped fresh mint leaves
1. Soak the prunes in a bowl with hot water for 10 minutes, then drain.
2. Meanwhile, in an electric spice grinder, grind the coriander and cumin seeds to a powder.
3. Heat the ghee in a large tagine pot or sauté pan over medium heat. Add the fennel, ginger, cinnamon, and asafetida; lower the heat to medium-low; and sauté for 5 minutes. Add the paneer, salt, ground coriander and cumin, paprika, turmeric, and saffron. Sauté for 5 minutes, or until the cheese cubes have softened and are coated in the seasonings.
4. Fold in the vegetables, olives, and prunes and 1 cup of hot water. Cover, decrease the heat to low, and simmer, shaking occasionally, until the vegetables are tender but not mushy, about 15 minutes.
5. Garnish each serving with a drizzle of olive oil and a sprinkle of parsley and mint. Serve hot.
Recipe extracted from Joy of Balance by Divya Alter, published by Rizzoli International Publications, Inc. Photography © Rachel Vanni. Food stylist © Caitlin Haught-Brown.
Originally featured in Comforting Fall Recipes to Balance Your Dosha