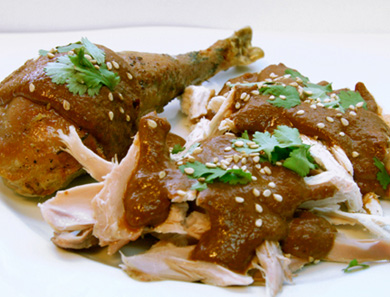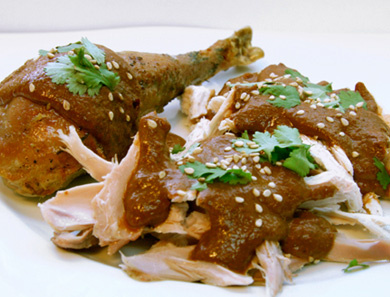 Adapted from my favorite contributor Lee Gross, who transforms leftovers like no one else. This recipe calls for lots of ingredients, but don't be put off—it's actually quite simple to make and totally revamps day-old turkey. Make some fresh guacamole and warm up some tortillas and you have the perfect way to use up leftovers.
1. Bring the wine to a boil in a small pot, add the raisins and apricots, and remove from the heat. Let them soak for at least 10 minutes.
2. Meanwhile, roast the chilies over an open gas flame until fragrant and toasty. Discard the stems and seeds from each chili and roughly chop. Place the chilies in a bowl and cover with boiling water. Let them soak for at least 10 minutes.
3. Heat the oil in a large saucepan over medium heat and add the onion, garlic, cumin, oregano, and salt. Cook, stirring often, until softened, about 10 minutes. Add the raisins, apricots, and wine. Drain the chilies, discarding the liquid, and add to the pot. Add the tomatoes, stock, pumpkin seeds, almonds, and sesame seeds. Bring the mixture to a boil, turn the heat down, and simmer for 1 hour. Stir in the chocolate, pepper, and chipotle. Transfer the mole to a blender and purée until completely smooth (be extremely careful when blending hot liquids). It's best to refrigerate the sauce overnight or at least let it sit for a few hours, letting all those flavors get to know each other. Reheat, adding a splash of water if the mixture is too thick, and serve over warm, sliced leftover turkey. Garnish with fresh cilantro and an additional sprinkle of roasted sesame seeds.
Originally featured in Leftover Turkey, Revamped