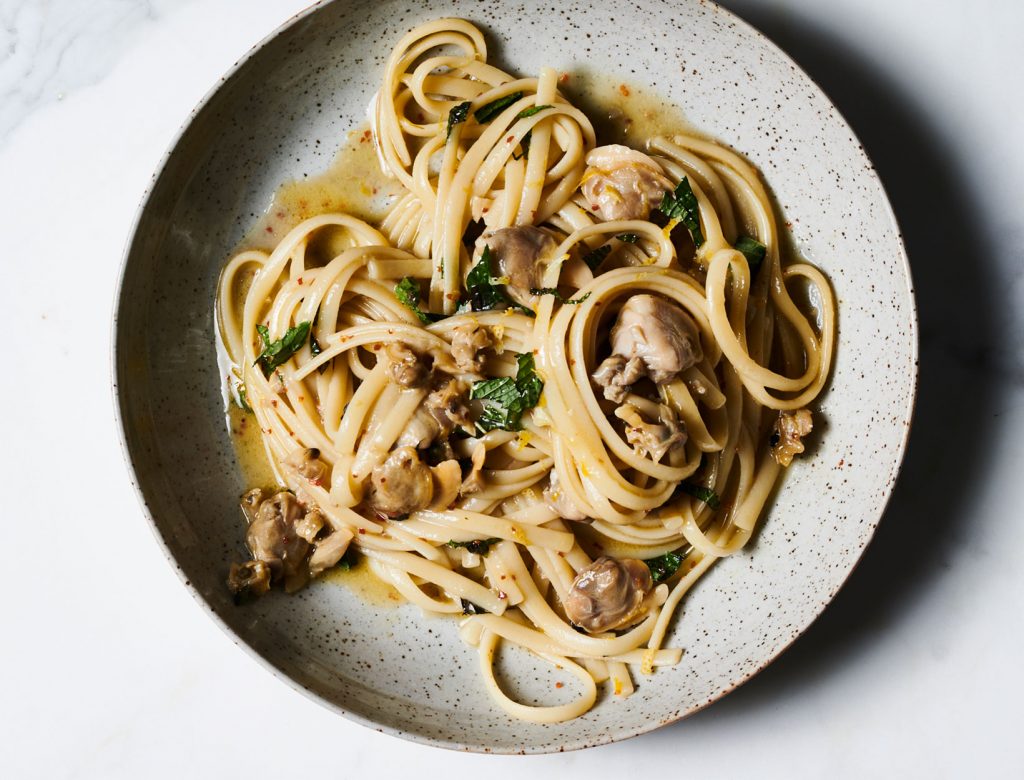 Missy Robbins's Linguine with Clams
"I grew up in a kosher home devoid of shellfish, so my love for pasta with clams started later in life. This recipe screams summertime and makes me think of beach weekends spent shoving my face with steamers dipped in butter and lemon. Paired with linguine, they become a traditional pasta dish—and always a crowd favorite—but my take makes a vibrant detour with the addition of mint and lemon zest. The recipe also calls for removing the clams from their shells, which results in a more cohesive dish—and a less messy eating experience."
For the clams:
1. In a wide sauté pan over medium-high heat, warm the oil. Add the smashed garlic cloves and gently sauté until fragrant, about 1 minute.
2. Stir in the clams, wine, and thyme. As each clam opens, use tongs to transfer it to a bowl.
3. Once all of the clams are cooked, use a fine-mesh strainer to drain the cooking liquid into a medium bowl and reserve. Discard the solids.
4. Remove the meat from each clam and discard its shell. Chop half the meat, then place it, along with the whole pieces, in the reserved cooking liquid.
For the pasta and finish:
1. Bring a large pot of water to a boil over high heat and generously season it with salt.
2. In a large sauté pan over medium-low heat, melt 3 tablespoons of butter. Add the remaining chopped garlic and sweat until fragrant, about 1 minute. Add 1 cup of the reserved clam liquid, and cook until reduced by one third.
3. Place the pasta in the boiling water and cook until al dente, about 7 to 8 minutes.
4. While the pasta cooks, add the clam meat to the pan and warm through over low heat. Stir in the chili flakes. Use tongs to transfer the cooked pasta to the pan. Add ½ cup pasta water and toss until the sauce is mostly absorbed, about 1 minute. Add the remaining tablespoon butter and continue to toss. (The butter will add an element of richness and a sheen to the dish.) If the pasta tightens up, add some of the reserved clam liquid or more pasta water to moisten the mixture.
5. Just before plating, squeeze the lemon juice over the pasta. Taste and season with salt if desired. To serve, evenly divide the pasta among 4 bowls. Garnish each portion with mint leaves, lemon zest, and bread crumbs.
Recipe from Breakfast, Lunch, Dinner…Life! Recipes and Adventures from My Home Kitchen by Missy Robbins with Carrie King (Rizzoli Publishing)