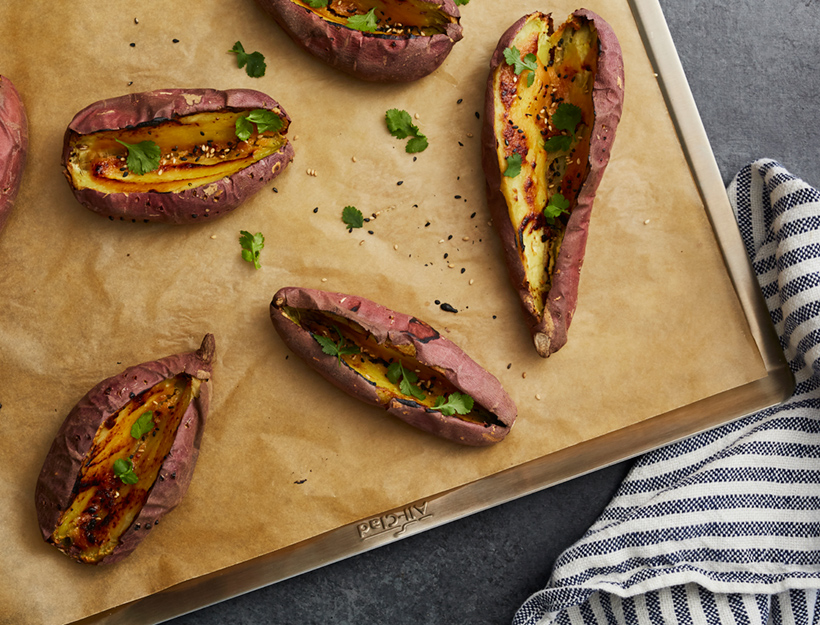 These potatoes are a super tasty and easy addition to any meal. They're also great to make ahead for our miso sweet potato collard wrap or to eat as a snack.
1. Preheat the oven to 400°F.
2. Wash the sweet potatoes and prick them all over with a fork.
3. When the oven is heated, place the sweet potatoes on the center rack, with a parchment lined baking sheet below to catch any sugars that might drip down and burn. Roast for 35-45 minutes, or until soft.
4. Remove from the oven and let cool enough to handle.
5. Whisk together the miso and water. Split the sweet potatoes lengthwise, and place on a parchment-lined baking sheet. Spread some of the miso mixture on the cut side of each sweet potato, then return to the oven to roast for about 10 minutes, or until the miso topping is nicely browned.
6. Garnish each one with a drizzle of olive oil, a pinch of salt, and some toasted sesame seeds and cilantro.
Originally featured in The Annual goop Detox 2017