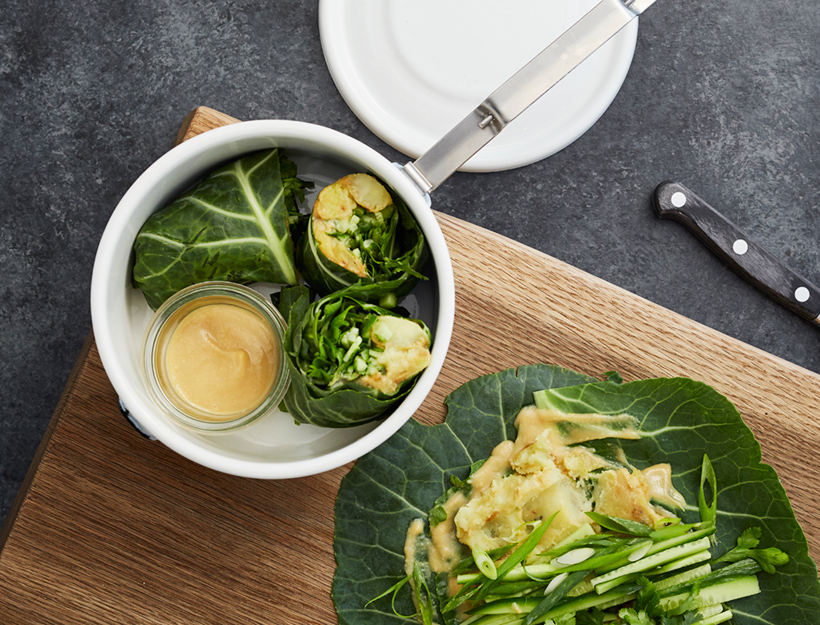 Miso Sweet Potato Collard Wrap
Inspired by Taiwanese beef rolls, these healthy collard wraps are the best way to use leftover miso sweet potatoes.
1. To make the sauce, combine white miso and 1 ½ teaspoons hot water in a small bowl. Stir until miso has dissolved, then mix in the coconut aminos. Set aside.
2. To make the wrap, arrange the collard green leaves on your work surface, overlapping to make one large, roughly 12-inch x 5-inch piece.
3. Spread the miso sauce along the center of the wrap (a roughly 2-inch x 12-inch rectangle down the middle).
4. Scoop the miso sweet potato out of its skin and spread down the center on top of the sauce.
5. Top with cucumbers, scallions, and cilantro leaves, spreading them out evenly down the center of the wrap.
6. Carefully roll up the wrap, keeping it as tight as possible as you go. Cut into thirds just before eating.
Originally featured in The Annual goop Detox 2017