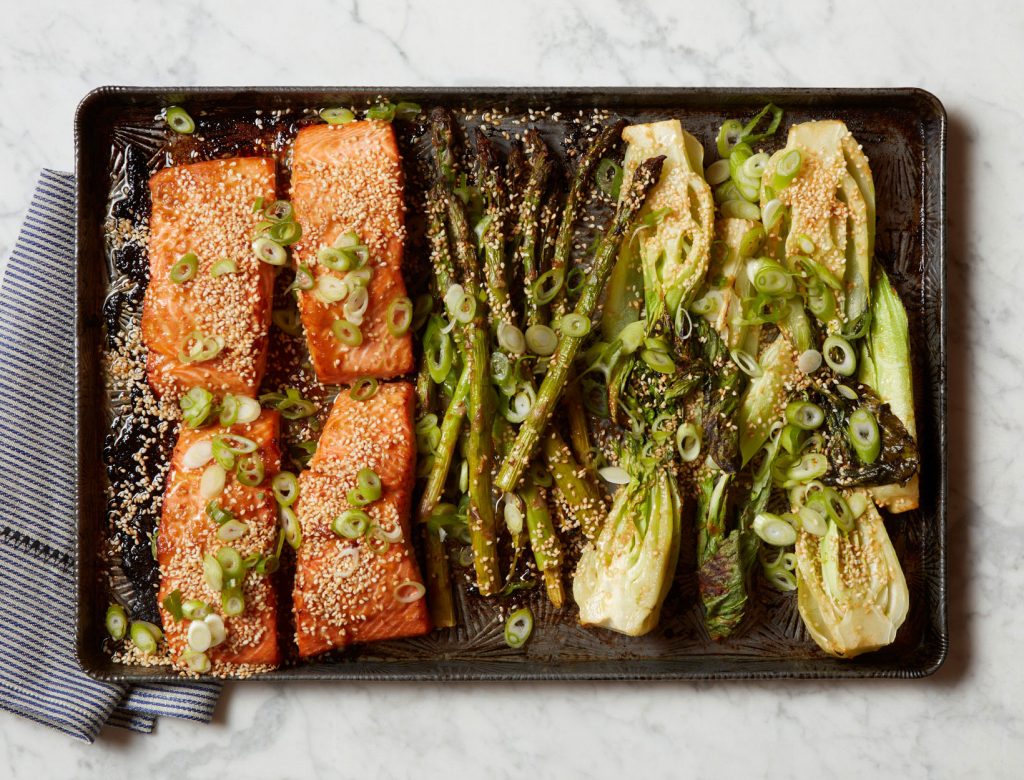 Miso Salmon with Bok Choy and Asparagus
Easy enough for a weeknight yet impressive enough for a dinner party, this quick salmon and spring veggie dinner has quickly become a new favorite. Make a double batch of the miso glaze and spread it on everything from chicken to veggies to tofu.
2 tablespoons white miso
2 teaspoons toasted sesame oil
2 teaspoons rice wine vinegar
1 tablespoon plus 1 teaspoon tamari soy sauce
1 tablespoon plus 1 teaspoon mirin
2 teaspoons finely grated fresh ginger
1 tablespoon olive oil
4 (5- to 6-ounce) salmon fillets, skin removed
12 spears asparagus, tough ends removed
4 bunches baby bok choy, rinsed well and cut lengthwise into quarters
2 scallions, thinly sliced
2 tablespoons toasted sesame seeds
1. Preheat the oven to 450°F.
2. Whisk together the first 6 ingredients in a large bowl.
3. Spread a rimmed (18×13-inch) half sheet pan with the olive oil.
4. Dunk the salmon in the miso glaze and arrange along one edge of the baking sheet.
5. Next, toss the asparagus in the glaze and arrange in one even layer in another corner of the baking sheet.
6. Finally, toss the bok choy with the remaining glaze and arrange in a pile in the open space on the baking sheet (don't worry about piling it up a little—it will help it steam and cook through).
7. Roast in the oven for 12 to 15 minutes, or until the fish is firm to the touch (if you'd like a little more color on the salmon, broil it for 2 minutes at this point).
8. Remove from the oven, garnish with sliced scallions and sesame seeds, and serve.
Originally featured in The New One-Pot Meal Happens in a Pan