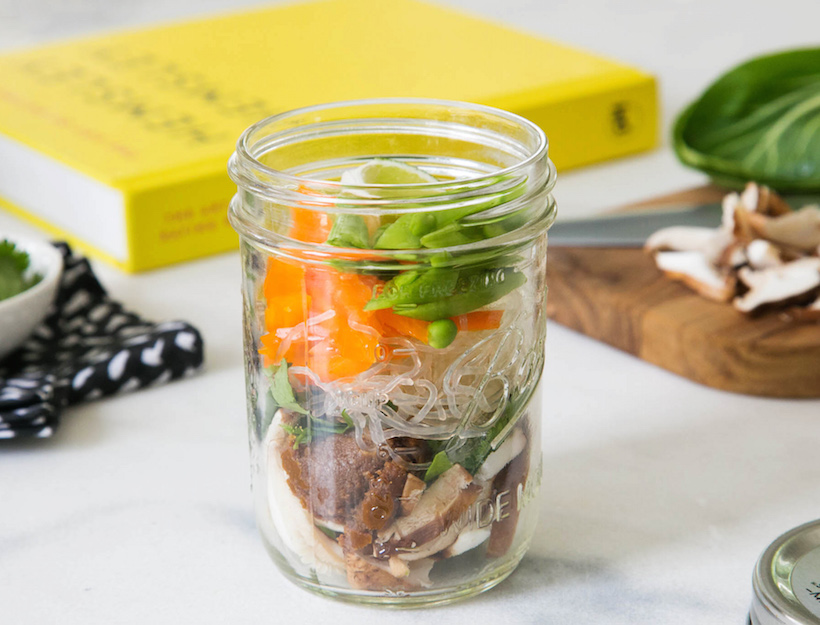 Miso Kelp Noodle Pot
A splash of tamari and a dollop of miso provide an instant Asian-inspired soup base here. Add whatever combo of raw and cooked veggies you like. Kelp noodles are made from sea vegetables and can be found near the tofu at Whole Foods and most health food stores.
35 grams kelp noodles
1 pinch dried dulse (or other sea vegetable)
2 tablespoons grated ginger, squeezed to get 1 tablespoon ginger juice
1 tablespoon chopped cilantro
1 teaspoon coconut oil
1 tablespoon unpasteurized miso paste
1 handful assorted steamed veggies (such as green beans, broccoli, or cabbage)
1 handful assorted raw veggies (such as mushrooms, bok choy, or grated carrot)
1 lime wedge
1. Rinse and drain the kelp noodles.
2. Add everything to a heatproof jar and keep refrigerated until ready to eat.
3. When ready, boil a kettle and remove the lime wedge from the jar.
4. Let the boiled water sit for a minute or two before filling the jar (leave a half inch at the top so it doesn't overflow).
5. Stir, cover with the lid, and let sit 5 minutes.
6. Squeeze in lime juice, stir again, and enjoy.
Originally featured in Ingenious Noodle Pot Lunch Recipes