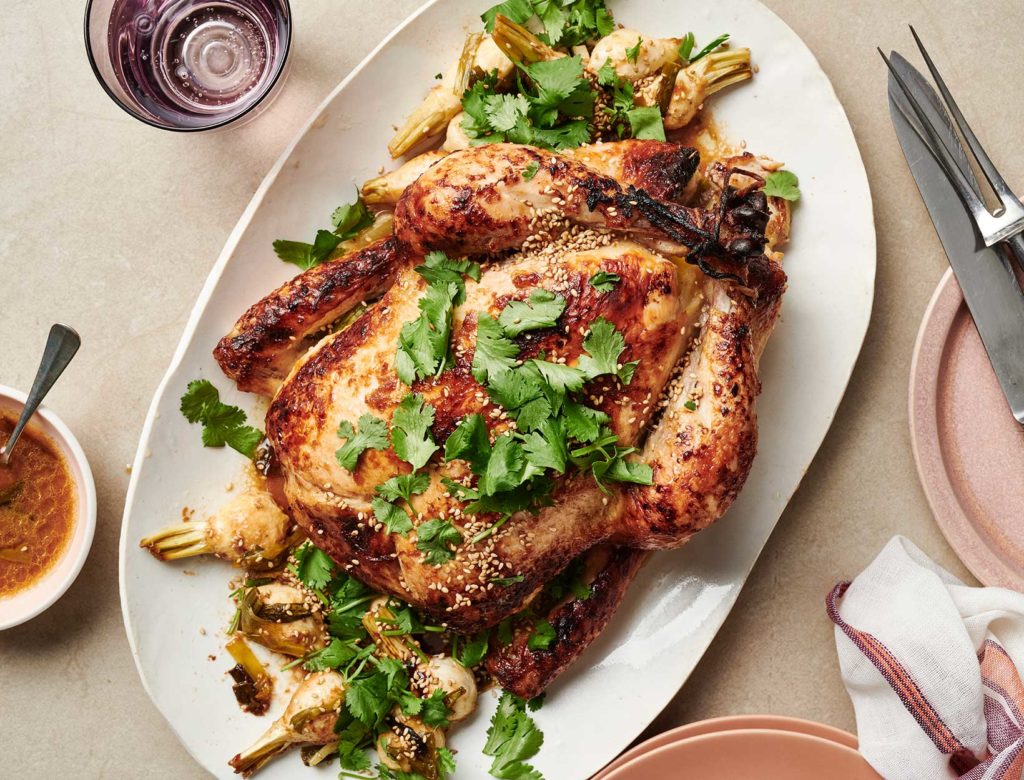 Miso Ginger Roast Chicken
We're very into the combination of miso and ginger and use it every chance we get. In this dish, it's paired with sake, which adds some bright acidity. We went for Japanese turnips, but Japanese sweet potatoes, carrots, or regular turnips would be delicious, too.
1. In a large bowl, whisk the sake, ginger, miso, salt, and grape-seed oil until well combined.
2. Add the chicken to a 1-gallon zip-top plastic bag (or a 1-gallon reusable silicone food-storage bag) and pour the marinade over it, making sure the chicken has been covered evenly. Let marinate in the fridge overnight.
3. When ready to cook, preheat the oven to 300°F. Transfer the chicken from the bag to a sheet pan. Toss the scallions and turnips with a bit of grape-seed oil and a pinch of salt and scatter around the chicken. Roast for 3 hours, rotating the pan and tossing the vegetables halfway through. Let the chicken rest at least 10 minutes before carving.
4. Serve with the cilantro and a sprinkle of sesame seeds over the chicken.
Originally featured in 4 Foolproof Ways to Season and Serve a Roast Chicken