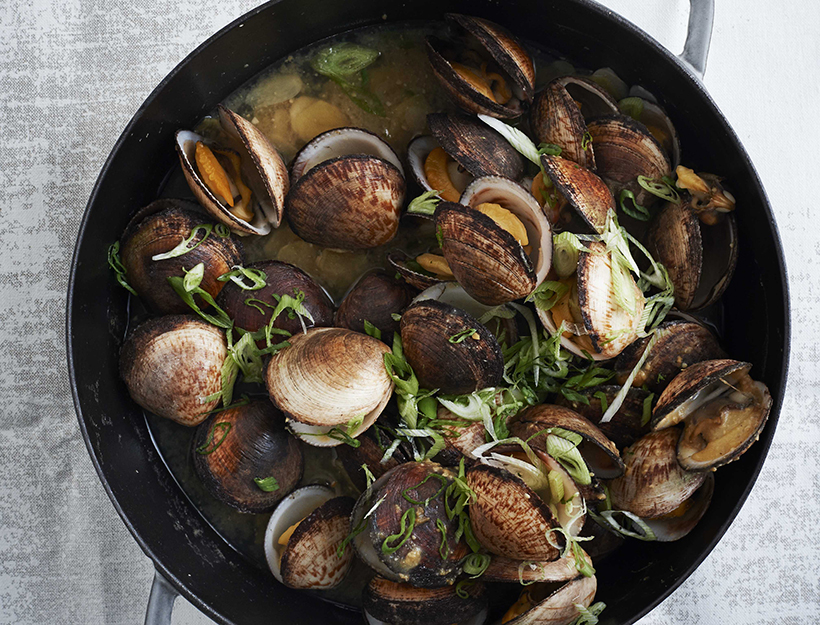 Miso Clams
This seven-ingredient dish is easy enough for a weeknight dinner at home but impressive enough for a special occasion. Since the miso is salty, be sure you use the smallest, sweetest clams you can find and clean them really well.
6 large cloves garlic, thinly sliced
1 (5-inch) piece fresh ginger, peeled and thinly sliced
3 cups sake
3 pounds small clams, such as Manila or littleneck, cleaned
4 tablespoons (½ stick) unsalted butter
4 tablespoons white miso, dissolved in 3 tablespoons very hot water
6 scallions, thinly sliced
1. Combine the garlic, ginger, and sake in a heavy-bottomed saucepan or a Dutch oven and bring to a simmer. Cook for 5 to 10 minutes, until the aromatics have flavored the sake and most of the alcohol has cooked off.
2. Add the clams, cover the pot, and cook for about 5 minutes, or until the shells start to open; add the butter and miso and stir to dissolve.
3. Garnish with the scallions and serve.
Originally featured in goop Staff Favorites from It's All Easy