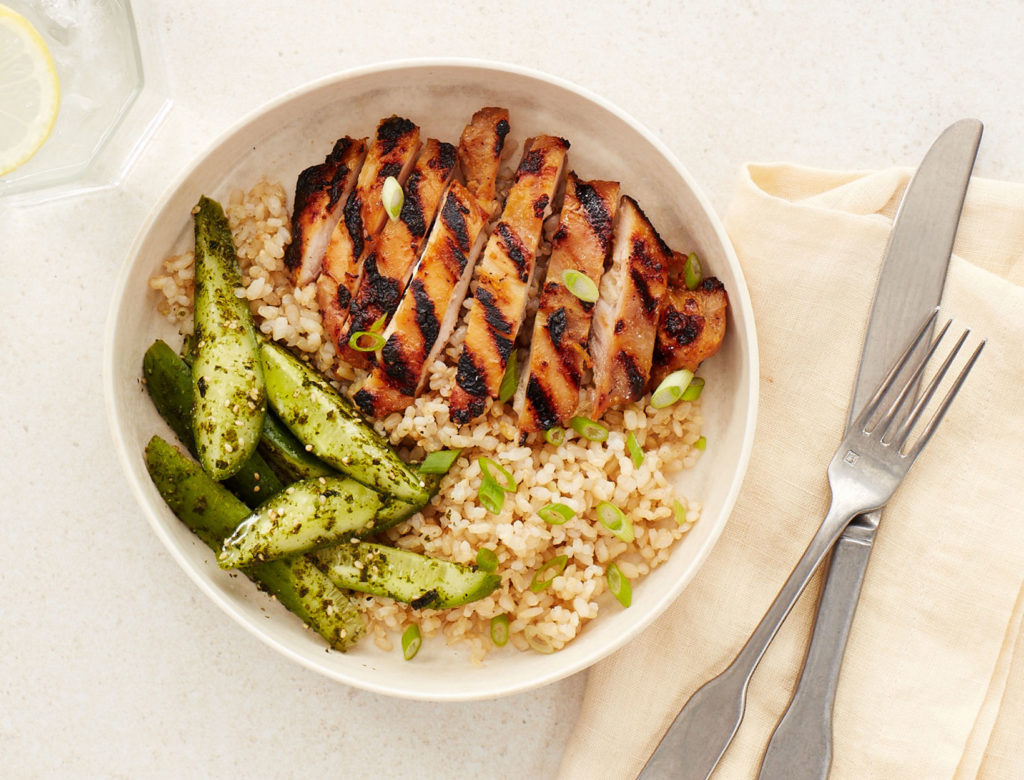 Miso Chicken Bowl with Cucumbers and Furikake
A lot of traditional Japanese marinades call for mirin or sake (delicious, but sugary and alcoholic, respectively, so not very detox-friendly). We've found that coconut aminos bring a similar sweetness that complements the salty miso. It's worth noting that miso and coconut aminos tend to burn on the grill. We learned a tip from the Japanese food blog Just One Cookbook: Completely wipe the marinade off the chicken before grilling. Don't worry, the marinade soaks in for twenty-four hours beforehand, so you won't lose any flavor.
1. Whisk together the miso and coconut aminos until smooth. Add the chicken thighs, making sure they are completely coated. Cover and marinate in the fridge for 24 hours.
2. Heat a grill pan over medium heat. Remove the thighs from the marinade, wiping off any excess with a paper towel. Brush the grill pan with a little avocado oil and add the chicken to the pan. Cook for about 5 minutes on each side, or until the internal temperature reaches 165°F.
3. While the chicken cooks, toss the cucumbers with the lime juice and a generous sprinkle of furikake. Taste and add a pinch of salt if needed (the saltiness of furikake varies from brand to brand).
4. Let the chicken rest for 5 minutes before slicing. Serve over the grain of your choice with the cucumbers and extra coconut aminos on the side for drizzling and dipping.
Originally featured in The Annual New Year Detox