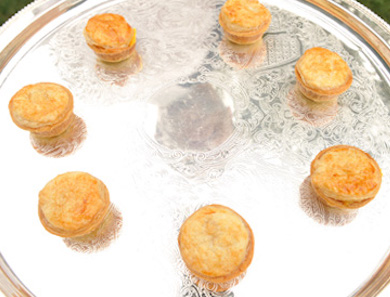 We worked with the team over at Mary Giuliani Catering to build an appropriately British menu for our Stella McCartney x goop party—from fish n' chips, to tea sandwiches, sticky toffee pudding and more, done in party-friendly mini versions.
1. For the dough: combine the flour, salt and sugar in a large bowl and stir briefly until the mixture is aerated. Using a pastry blender or your fingers, cut the butter into the dry ingredients until it's in pea-size pieces that are slightly yellow in color (about 4 to 5 minutes). Drizzle in 4 tablespoons of the ice water and mix just until the dough comes together. (Add the last tablespoon of ice water if necessary, but don't overwork the dough or it'll become tough). Shape the dough into a flat disk, cover it in plastic wrap, and refrigerate for at least 30 minutes. Roll out the dough to 1/8″ thick and cut out 2 1/2″ circles large enough to fit inside the mini aluminum pie tins. Press the sides to form to the wall of the tins. Fill the shells with uncooked beans such as chickpeas to prevent the dough from bubbling. Place in a 375°F oven and cook for about 20 minutes until the dough is half way cooked and lightly colored. Allow to cool.
2. In the meantime, prepare the vegetable filling. Sauté seasonal vegetables over medium heat using a small amount of canola oil until soft. Season with salt and pepper and cool. Transfer to a large mixing bowl and add the herbs. Mix to combine.
3. Fill the half-baked tartlet shells with the vegetable mix 3/4 full. Pour the thickened vegetable broth inside to the top.
4. Pull out the puff pastry circles and brush with egg wash. Place the egg washed side down over the shells and crimp the edges to seal with a small fork.
5. When ready to bake, brush the tops of the pot pies with egg wash, sprinkle with kosher salt and poke 3 small holes using a tooth pick in the center of the tops to allow the steam to escape from inside. Place on a baking sheet and bake at 375°F for about 20 minutes or until evenly golden brown in color.
Originally featured in Summer Party Bites