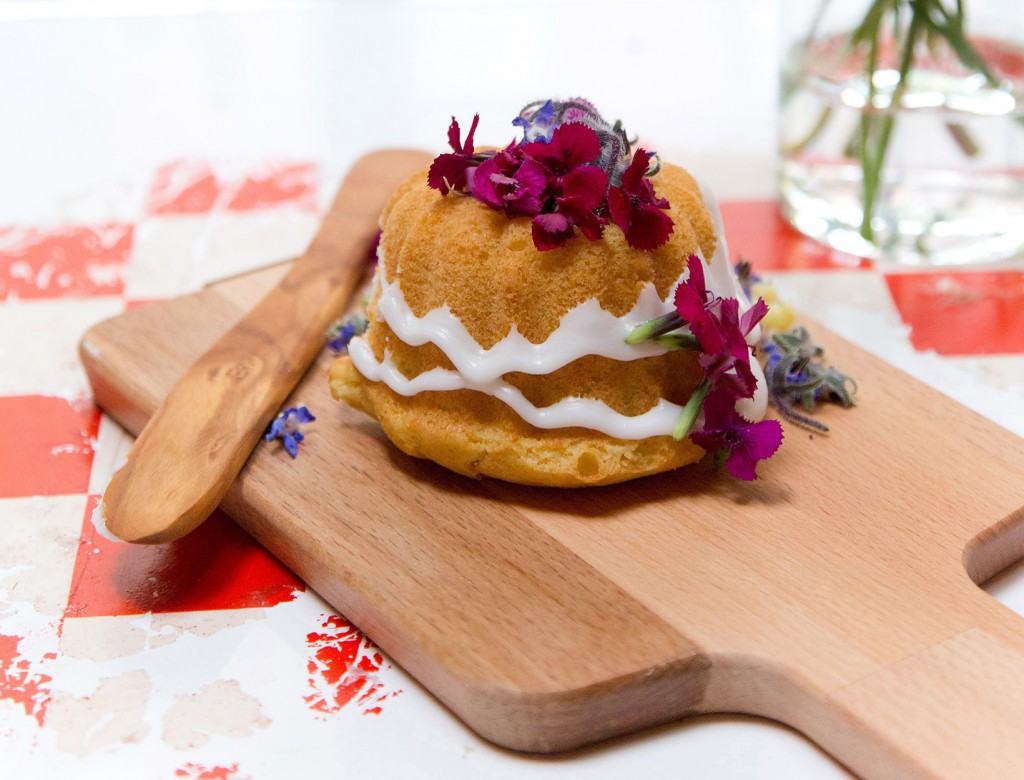 Mini Olive Oil Orange Bundt Cakes
We love this simple, not-too-sweet olive oil orange cake recipe from NYC's Baked. We opted to make 10 mini cakes (they're the perfect size for gifting), but this amount of batter will also make one 10-inch Bundt cake.
1. Preheat the oven to 350°F.
2. Butter 10 mini Bundt cake molds (4⅛x2-inch), dust them with flour, and knock out the excess flour.
3. In a large bowl, whisk together the flour, baking powder, and salt. Set aside.
4. In the bowl of a stand mixer fitted with the paddle attachment, beat the egg yolks until they are pale and light; slowly pour in the sugar until it is completely incorporated. Add the yogurt and olive oil and mix until thoroughly combined. Add the orange zest and vanilla and mix until just incorporated.
5. Add the flour mixture to the wet ingredients in 2 parts, beating after each addition until just combined (this will take about 10 seconds). Scrape down the bowl and beat again for 5 seconds.
6. In another large bowl, beat the egg whites until stiff peaks form. Scoop 1 cup of the egg whites into the batter. Use a rubber spatula to fold them in gently. After about 30 seconds of folding, add the remaining egg whites and gently fold until they are almost completely combined. Do not rush the folding process.
7. Pour the batter into the prepared pans and bake for 20 to 25 minutes, rotating the pan halfway through the baking time. They are done when a small sharp knife inserted into the cake comes out clean. Transfer the pan to a wire rack to cool completely.
8. While the cakes cool, make the glaze. Whisk together the confectioner's sugar and orange juice until the glaze is thick but pourable. If it is too thick, add a few more drops of orange juice. If it is too thin, add a few more tablespoons of confectioner's sugar.
9. Gently loosen the sides of the cakes from the pans and turn out onto the rack.
10. Drizzle the glaze along the crown of the cakes, allowing it to drip down the sides. Decorate with edible flowers (or whatever decorations you like), and allow the glaze to set before serving.