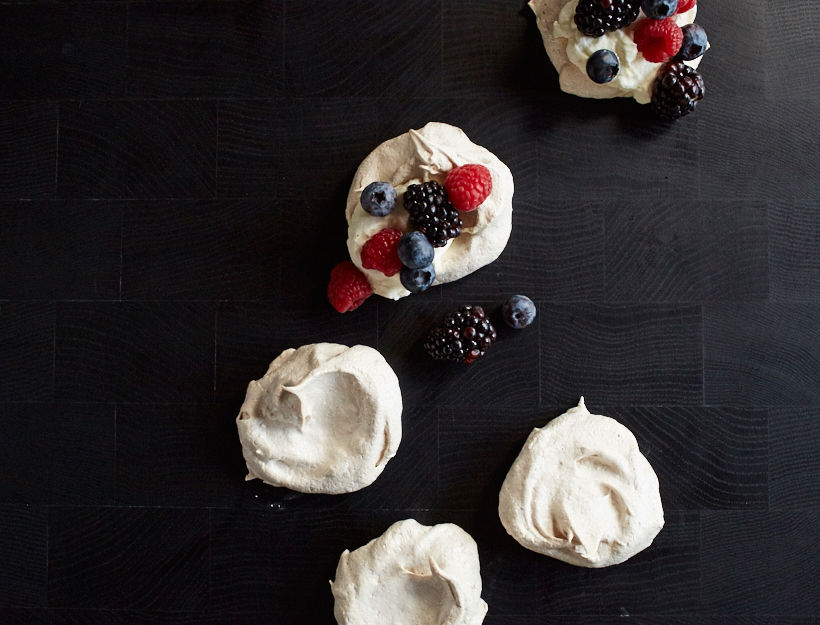 These little meringues are crunchy on the outside, marshmallowy on the inside, and pretty irresistible. Great on their own, they're even better with whipped cream and berries.
1. Preheat the oven to 250°F.
2. Combine the sugar, cocoa powder, and arrowroot powder in a small bowl.
3. Place egg whites and salt in the bowl of a stand mixer fitted with the whisk attachment and beat on medium just until foamy, about 1 minute (you can also do this with an electric whisk or by hand if you have strong biceps).
4. Slowly start adding in the sugar-cocoa-arrowroot-powder mixture, about 2 tablespoons at a time, whisking on medium-high the whole time. As you add the sugar mixture, the meringue will start to become thick and glossy.
5. When all of the sugar mixture has been added, continue whisking until the meringue holds a stiff peak even when turned upside down (test this by removing the whisk attachment and holding it up toward the sky—if the peak doesn't fall, it's ready).
6. Whisk in the vinegar and vanilla extract.
7. Prepare 2 baking sheets with parchment paper.
8. Scoop 12 little spoonfuls (about 1 heaping tablespoon each) of meringue onto each baking sheet, being sure to space them out as evenly as possible.
9. Bake for 25 minutes.
10. Turn off the oven but leave the pavlovas inside to cool completely.
11. When cool, remove from the oven and garnish with whipped cream and berries before serving.
Originally featured in Feed the Peanut Gallery: What to Serve at Your Oscars Party