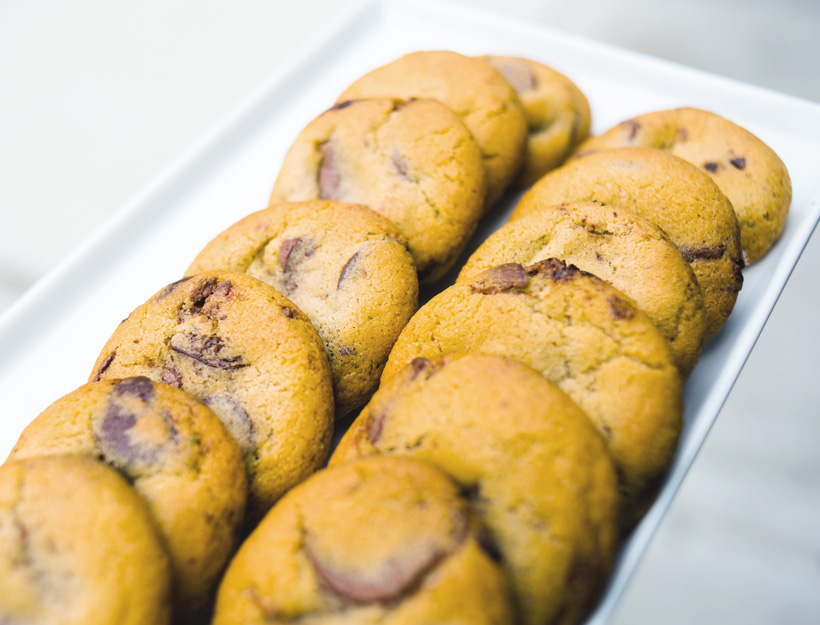 Mini Chocolate Chip Cookies
Chocolate chip cookies are always a crowd-pleaser, and these mini ones certainly don't disappoint.
112 grams brown sugar
112 grams granulated sugar
140 grams butter, soft
75 grams eggs
4 grams vanilla extract
264 grams all-purpose flour
4 grams salt
5 grams baking soda
140 grams dark chocolate chips
140 grams milk chocolate chips
1. Cream butter and sugars together in a mixer, using the paddle attachment, until fluffy.
2. Slowly add eggs and vanilla extract until incorporated, scraping down the sides of the bowl as needed.
3. In another bowl, whisk together flour, salt, and baking soda. Slowly add the flour mixture into the mixer and mix until all the dry ingredients are incorporated.
4. Add chocolate chips and mix to combine.
5. Chill the dough for 1-2 hours.
6. When ready to bake, preheat the oven to 325°F.
7. Shape cookie dough into 25-gram balls and put on a parchment-lined baking sheet.
8. Bake in the oven for 3 minutes, then turn the baking sheet and cook another 3 minutes (times may vary depending on home ovens).
Originally featured in A goop x Net-a-Porter Midsummer Dance Party