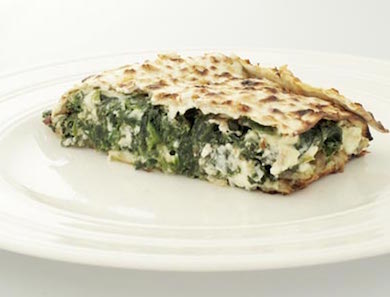 Mina de Espinaka (Matzo and Spinach Pie)
This spinach pie, eaten during Passover in the Judeo-Spanish Ottoman world, is incredibly tasty and can be served as an appetizer or lunch.
1. Make the filling first: wash the spinach and remove any hard stems. Drain and squeeze the excess water out, then put the spinach in a pan with a tight-fitting lid. Steam for a minute or two, until the leaves collapse into a soft mass. (You might need to do this in batches.) Mix the spinach, including the green juice, with 3 eggs (beaten) and the cottage cheese. Season with salt, pepper and nutmeg.
2. For the crust: dip 4 – 5 matzo squares in the milk until only just softened and fit 2 layers on the bottom and sides of a 30 cm (12 inch) shallow oiled baking dish. Cover with the spinach filling. Soak the remaining matzo sheets in milk and arrange in 2 layers on top. Beat the remaining eggs with what is left of the milk and pour all over the pie.
3. Bake in a preheated 350 ˚ F/ 180 ˚ C/ gas 4 oven for about 45 minutes.
Originally featured in Kosher For Passover