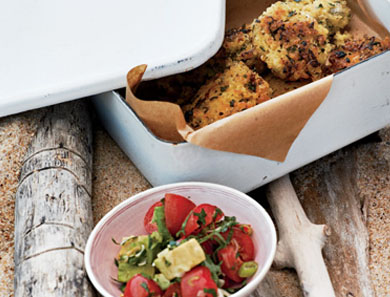 Millet "Falafel" with Avocado + Tomato Relish
This recipe started off as a millet salad with tomatoes and scallions, but it turned into something much more interesting when we decided the salad needed a little more texture. We formed the millet into crunchy little "falafel" and mixed the tomatoes with avocado for a bright relish. Make the relish while the millet is cooking so it has a little time to settle. These are also nice with a bit of Yogurt-Tahini Dressing.
for the falafel:
½ cup raw millet, rinsed
coarse sea salt
½ cup cooked chickpeas, crushed with a potato masher
4 scallions, white and light green parts only, thinly sliced
¼ cup finely chopped Italian parsley
1 lemon
extra virgin olive oil
for the relish:
½ cup chopped tomatoes (whatever's best; we like tiny cherry tomatoes cut in half)
1 ripe avocado, diced
2 teaspoons chopped Italian parsley
2 scallions, white and light green parts only, thinly sliced
2 teaspoons freshly squeezed lemon juice
2 tablespoons extra virgin olive oil
coarse salt
1. Start the falafel: Combine the millet with 1½ cups of water and a big pinch of salt in a saucepan. Bring to a boil, lower the heat, cover the pot, and cook until the millet is very soft and all the liquid has been absorbed, about 25 minutes.
2. Meanwhile, for the relish: Combine all the ingredients in a bowl, seasoning to taste with salt. Set aside while you finish the falafel.
3. Back to the falafel: Stir the chickpeas, scallions, and parsley into the cooked millet. Using a Microplane grater, zest the lemon and stir the zest into the millet mixture along with 2 tablespoons of olive oil. Using a potato masher, crush the mixture until it holds together a bit.
4. Preheat the oven to 250ºF and line a baking sheet with parchment paper.
5. Set a nonstick skillet over medium-high heat and coat the bottom with a slick of olive oil. Drop large tablespoonfuls of the millet mixture into the pan with a bit of space between each spoonful. Press each tablespoonful down with the back of a spatula to form a sort of thick pancake (no need to go crazy shaping these; they should be nice and rustic). Cook until browned and crisp, about 3 minutes per side. Set the cooked falafel on the prepared baking sheet and put them in the warm oven while you cook the rest of the millet mixture, adding more olive oil to the skillet if necessary.
6. Cut your zested lemon into wedges, squeeze a bit of juice over each falafel, and sprinkle each with a tiny pinch of coarse salt. Put a spoonful of relish on top of each falafel and serve immediately.
From It's All Good by Gwyneth Paltrow and Julia Turshen. 
Originally featured in It's All Good