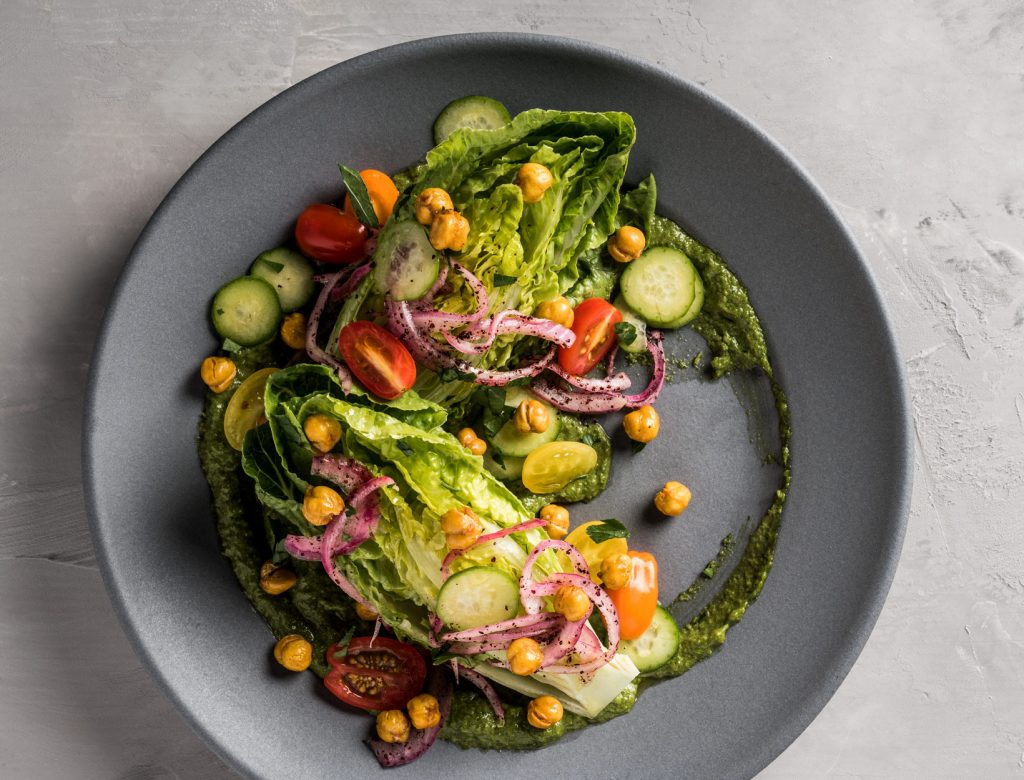 Middle East–Inspired Wedge
Cool, crunchy lettuce + creamy dressing + flavor-bomb toppings = the magic formula that makes the classic wedge salad the all-star that it is. We kept the formula but played with Middle Eastern ingredients like tahini, sumac, and chickpeas to reimagine this favorite.
for the crispy chickpeas:
1 (16-ounce) can chickpeas, rinsed, drained, and dried, with skins removed
1 tablespoon grape-seed oil
for the sumac onions:
½ red onion, thinly sliced
1 teaspoon sumac
1 teaspoon kosher salt
for the dressing:
1½ cups basil leaves
3 cloves garlic, minced
3 tablespoons tahini
⅓ cup olive oil
2 tablespoons water
1 teaspoon red wine vinegar
juice of 1 lemon
for the salad:
4 heads baby romaine lettuce, washed and halved
1 cup cherry tomatoes, halved
2 Persian cucumbers, thinly sliced
¼ cup roughly chopped parsley
1. First, make the crispy chickpeas: Preheat the oven to 375°F. Spread the dried, peeled chickpeas out on a sheet pan. Drizzle the olive oil over them, tossing well to evenly coat. Sprinkle with sea salt and bake for about 45 minutes, tossing every 15 minutes or so.
2. Next, make the sumac onions: Toss together the sliced onion, salt, and sumac. Marinate for at least 10 minutes.
3. To make the dressing, combine all the dressing ingredients in a blender until smooth.
4. To assemble the salad, spread a big dollop of basil-tahini dressing on a platter. Then arrange the baby romaine on top. Drizzle more dressing over the lettuce and put a little pile of sumac onions on top of each wedge of romaine. Then scatter the tomatoes, cucumbers, and crispy chickpeas over the top. Finish with a sprinkling of chopped parsley.
Originally featured in 5 Inspired Salads for Summertime