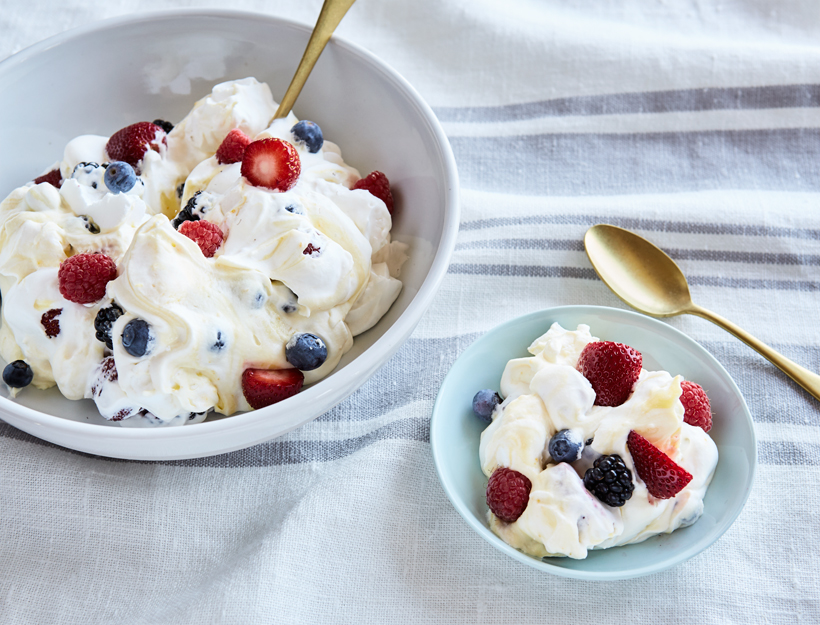 Eton mess is a classic English dessert of whipped cream, crushed meringues, and berries. For our version, we fold homemade lemon curd into the cream for extra flavor and use store-bought meringues for ease. It's heavenly.
1. To make the lemon curd, combine the first 5 ingredients in a small, heavy-bottomed saucepan over medium-low heat and cook, whisking constantly, until thickened, about 5 minutes. Remove from the heat and whisk in cold butter.
2. Strain the curd through a fine-mesh sieve, place plastic wrap directly on top of the curd so it doesn't form a film, and refrigerate for at least 1 hour.
3. In a large bowl, whip the cream until it holds soft peaks, then gently fold in the chilled lemon curd. Crumble in the meringue cookies and fold those in along with the berries. Divide among 4 bowls or glasses and serve immediately.
Originally featured in Easy Crowd-Pleasing Desserts