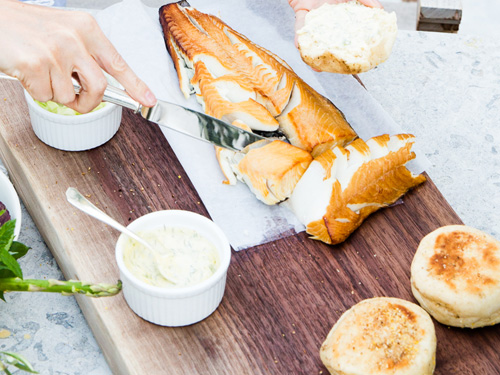 Meyer Lemon Aioli
This is Roberta's in Brooklyn's recipe, which we tried out for our Cookbook Club. Make this aioli to accompany their Smoked Sablefish and English muffins.
15 grams (1 teaspoon) red wine vinegar
3 grams (3/4 teaspoon) Dijon mustard
1 large egg yolk
1 small garlic clove, peeled and minced
10 grams (2 ¼ teaspoons) water
1.5 grams (1/2 teaspoon) kosher salt
90 grams (1/4 cup plus 2 tablespoons) good olive oil
300 grams (1 ½ cups) canola oil
Grated zest of 1 Meyer lemon
Juice of half a Meyer lemon (regular lemons work, too)
30 grams (2 tablespoons) chopped dill
In a food processor or using a whisk, mix together the vinegar, mustard, egg yolk, garlic, water, and salt. Add a few drops of the olive oil and blend or whisk to combine. Very slowly add the rest of both oils, blending or whisking constantly, until the aioli is emulsified. Stir in the lemon zest, juice, and dill, and check the seasoning, adding more salt or lemon juice as needed. The aioli will keep in the refrigerator for up to five days.
Published with permission from Roberta's Cookbook.
Originally featured in The goop Cookbook Club: Roberta's