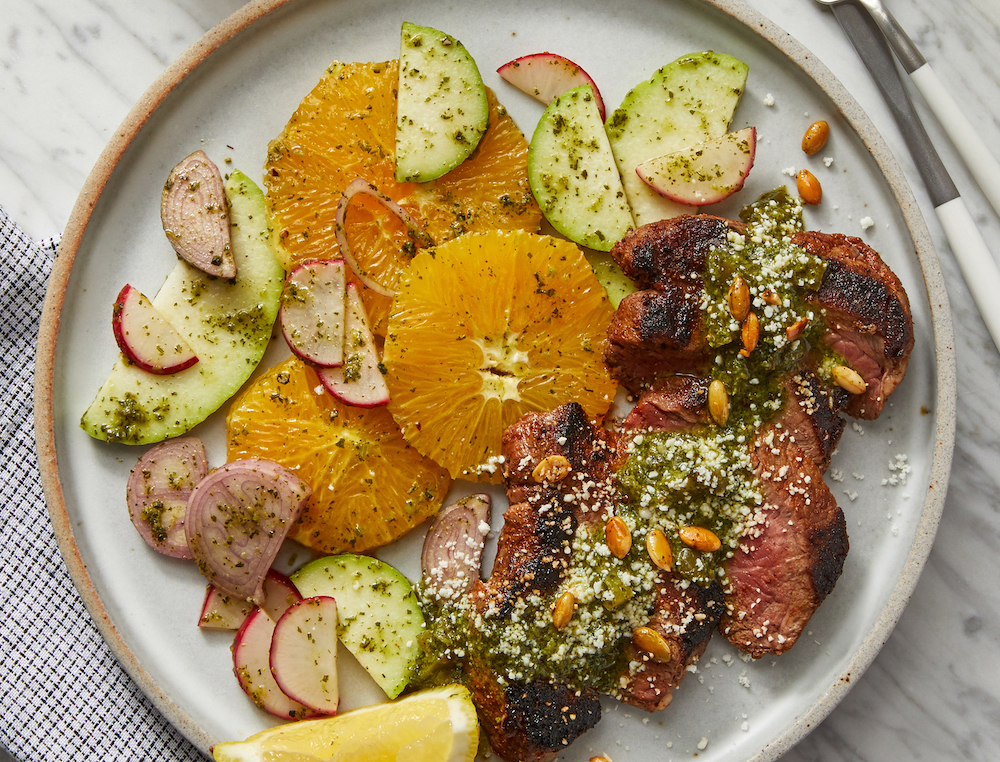 Mexican-Spiced Steaks with Cilantro Chimichurri and Chayote Squash Salad
Steak is delicious, but the cilantro chimichurri is the real star here. Make double and use it as a marinade later in the week or drizzle it over grilled flatbread.
1. Prepare the ingredients and marinate the radishes: Wash and dry the fresh produce. Quarter and deseed the lemon. Halve the squash lengthwise; remove the pit if present, then thinly slice crosswise. Peel and slice the orange into rounds. Peel and thinly slice the shallot. Halve the radishes lengthwise, then thinly slice crosswise. Roughly chop the pepper; thoroughly wash your hands, knife, and cutting board immediately after handling. In a large bowl, combine the sliced shallot, radishes, and vinegar and season with salt and pepper. Set aside to marinate, stirring occasionally, for at least 10 minutes.
2. Make the chimichurri sauce: Combine the juice of 2 lemon wedges, half the cilantro sauce, and as much of the chopped pepper as you'd like, depending on how spicy you'd like the dish to be. Season with salt and pepper.
3. Toast the pepitas: In a medium pan (nonstick, if you have one), heat 1 teaspoon of olive oil on medium-high until hot. Add the pepitas and season with salt, pepper, and a pinch of the spice blend. Cook, stirring frequently, for 2 to 3 minutes, or until golden brown (be careful, as the pepitas may pop as they toast). Transfer to a paper-towel-lined plate and immediately season with salt. Wipe out the pan.
4. Cook the steaks: Pat the steaks dry with paper towels and season on all sides with salt, pepper, and the remaining spice blend. In the same pan, heat a drizzle of olive oil on medium-high until hot. Add the seasoned steaks and cook, turning occasionally, 8 to 10 minutes for medium-rare, or until cooked to your desired degree of doneness. Transfer to a cutting board and let rest for at least 5 minutes.
5. Finish and serve: Add the sliced squash, sliced orange, and remaining cilantro sauce to the bowl of marinated radishes. Stir to combine, taste, then season with salt and pepper if desired. Find the lines of muscle (or grain) on the rested steaks; slice crosswise against the grain. Serve the sliced steaks with the finished vegetables. Garnish with the chimichurri, cheese, and toasted pepitas. Serve the remaining lemon wedges on the side.