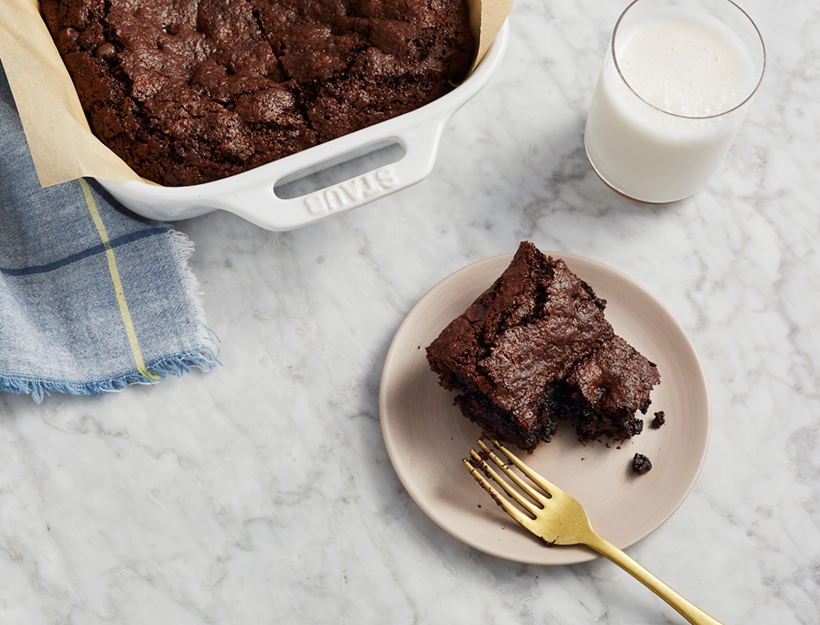 Mexican Hot Chocolate Brownies
"I'm such a sucker for brownies—especially these, with their amped up cinnamon and kick of cayenne. With a base of almond butter in lieu of flour (yes, it works—I promise!), they're also packed with protein and healthy fat, which will help you avoid the blood sugar dive that accompanies most sweets. While they're healthy enough to eat the entire pan, you likely won't want to, as these brownies are super filling—one small square will be enough to do you in."
4 eggs, preferably pastured
2 cups unsalted creamy almond butter (raw or roasted works fine)
1 tablespoon vanilla extract
⅔ cup unsweetened cocoa powder
1 ½ cups coconut sugar
½ teaspoon sea salt
2 teaspoons ground cinnamon
1 teaspoon ground nutmeg
1 teaspoon ground ginger
½ teaspoon ground cayenne
2 teaspoons baking soda
¾ cup dark chocolate chips
1. Preheat oven to 325°F.  
2. Beat eggs until blended, then add almond butter and vanilla extract and mix until well combined.  
3. In a separate bowl, mix together cocoa powder, coconut sugar, salt, cinnamon, nutmeg, ginger, cayenne, and baking soda.  
4. Add the dry ingredients to the wet and stir until very well combined. Stir in the chocolate chips. Pour or push, using your fingertips (batter can be quite thick) into a parchment lined 8×8" pan, spreading evenly.  
5. Bake for 30-35 minutes, or until a toothpick inserted into the center comes out clean. Let cool completely before removing from pan.  
Originally featured in Cleaned-Up Comfort Foods