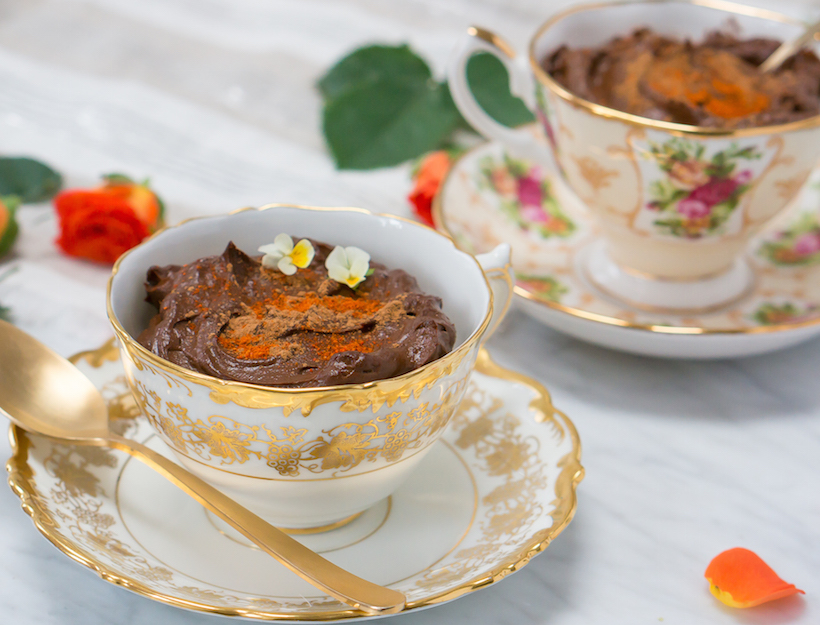 Mexican Hot Chocolate Avocado Mousse
This is probably my favorite dessert, whether I'm detoxing or not. The taste is so amazing that the health benefits feel like a side effect. This mousse has a deep, rich dark chocolate flavor and a creamy, decadent texture. The cinnamon, cayenne, and nutmeg add a wonderful spice that elevates and complements the chocolate; once you've had Mexican hot chocolate flavors, it's hard to go back to eating chocolate any other way. This mousse is made of only good things, with an avocado base (trust me, if I didn't tell you, you'd never believe it), magnesium and antioxidant-rich raw cacao, and a touch of maple syrup for sweetness. It's also incredibly filling, and great for those nights you can't stop noshing.
1. Combine all ingredients in a food processor and blend until very smooth, scraping down the sides if necessary.
2. Eat immediately or refrigerate for a few hours for an even thicker, more decadent texture.
Note: I often double or triple the recipe and keep it in the fridge to quell chocolate cravings throughout the week.
Originally featured in A Quick, Three-Day Summer Detox