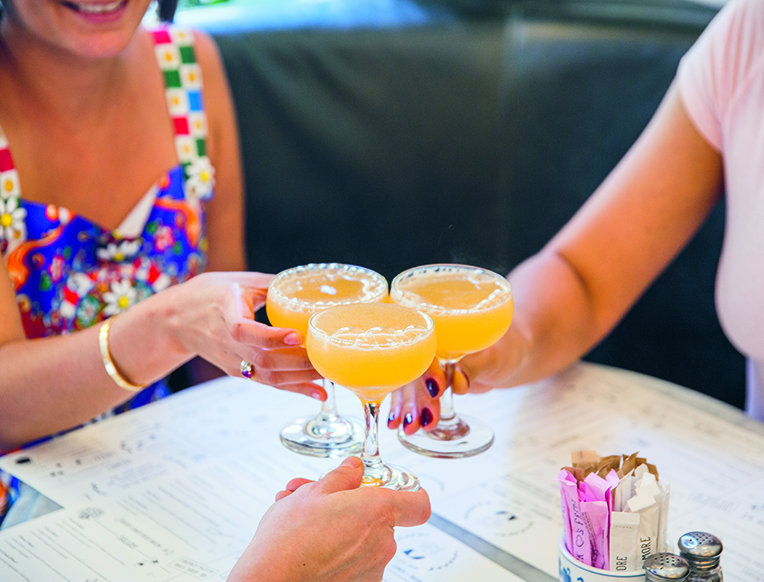 Melon Mimosa
This is a fun riff of the OG OJ mimosa. You can definitely make it work with an off-season melon by adding a little honey while blending, but a peak-season melon will really make this a next-level cocktail.
for the cantaloupe juice:
1 medium cantaloupe
for the mimosa:
4 ounces Lillet Blanc
4 ounces cantaloupe juice
champagne or other sparkling wine
1. To prepare the cantaloupe juice, cut off the top and bottom of the cantaloupe with a sharp knife. Stand the melon on a flat surface and remove the outer rind, following the natural curve of the melon in a downward motion, taking care not to cut off the fruit. Once the cantaloupe is peeled, cut it in half and discard the seeds.
2. Rough-chop the melon into small pieces and place in a blender starting with 1 cup of water. Blend on the highest speed, gradually adding more water until the consistency is more of a juice than a smoothie.
3. To prepare the mimosa, combine the Lillet Blanc and cantaloupe juice.
4. Measure 2 ounces of the cantaloupe mixture into each of 4 champagne flutes.
5. Top each flute with champagne.
From Jack's Wife Freda: Cooking from New York's West Village by Maya and Dean Jankelowitz. Recipes by Julia Jaksic. Published by Blue Rider Press, an imprint of Penguin Publishing Group, a division of Penguin Random House LLC. Copyright © 2016 by NoamBennyLLC. Photo: Henry Hargreaves
Originally featured in goop Cookbook Club: Jack's Wife Freda