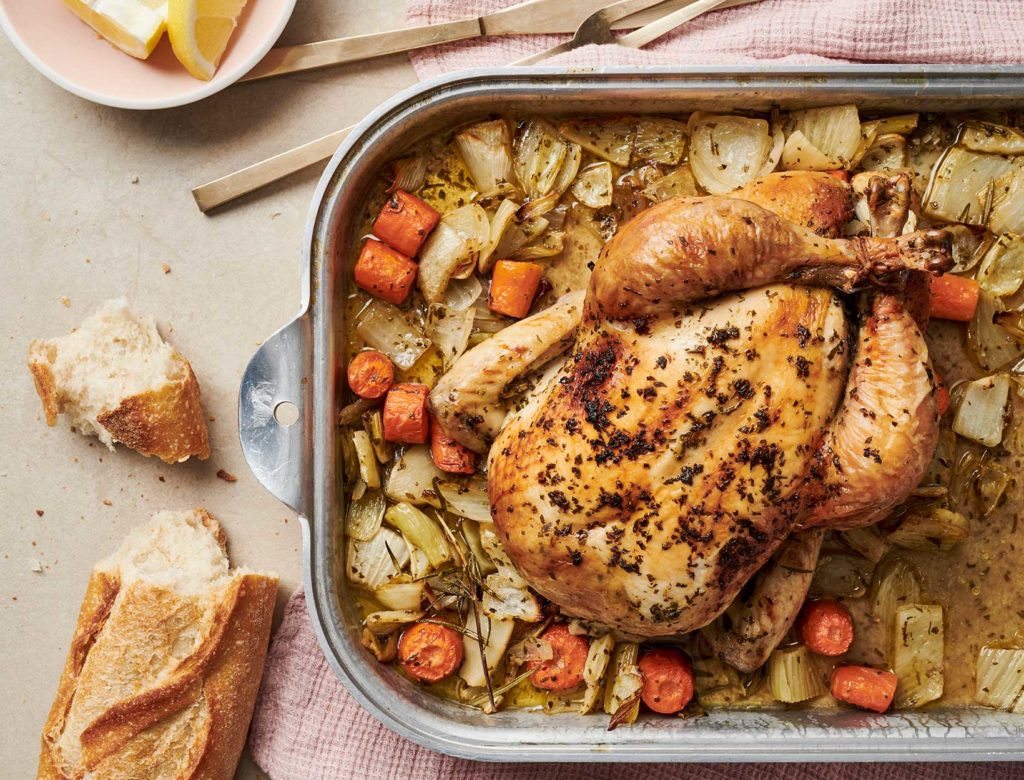 Mediterranean Roast Chicken with Oregano and Garlic
The epitome of a cozy roast chicken dinner: It's herby and garlicky, finished with bright lemon and served with baguette (you'll want to sop it all up). And the carrots, fennel, and onions slowly roast alongside the chicken, becoming caramelized in the rendered chicken fat. It's the best.
2 tablespoons fresh oregano leaves
4 cloves garlic, minced
¼ cup finely chopped parsley
½ cup olive oil, plus more for roasting
zest and juice of 1 lemon
1 4-pound chicken
3 large carrots, cut into 1-inch pieces
1 yellow onion, cut into 1-inch pieces
3 small fennel bulbs, cut into 1-inch pieces
salt
To serve:
lemon wedges
baguette
1. In a large bowl, whisk together the oregano, garlic, parsley, olive oil, lemon zest, and lemon juice until well combined.
2. Add the chicken to a 1-gallon zip-top plastic bag (or a 1-gallon reusable silicone food-storage bag) and pour the marinade over it, making sure the chicken has been covered evenly. Let marinate in the fridge overnight.
3. When ready to cook, preheat the oven to 300°F. Transfer the chicken from the bag to a sheet tray. Then toss the carrots, onion, and fennel with a little olive oil and a pinch of salt and scatter around the chicken. Roast for 3 hours, rotating the pan and tossing the vegetables halfway through. Let the chicken rest at least 10 minutes before carving.
4. Serve with the lemon wedges and baguette.
Originally featured in 4 Foolproof Ways to Season and Serve a Roast Chicken