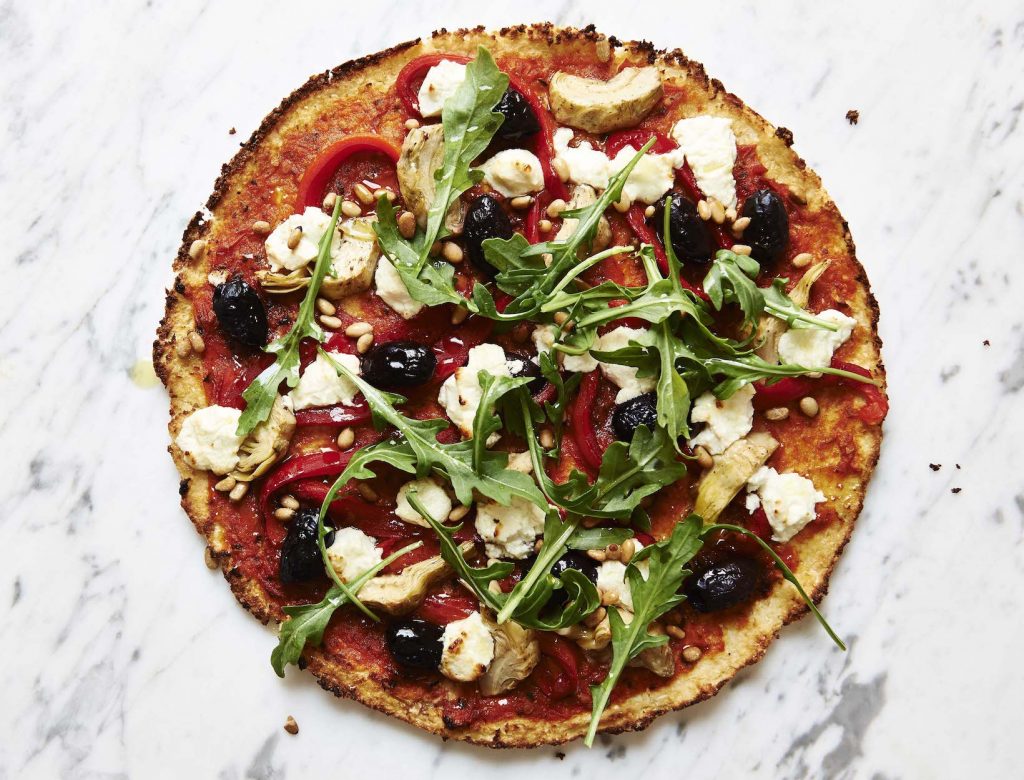 Mediterranean Cauliflower Pizza
Cauliflower makes a brilliant gluten-free pizza base, especially when it's mixed with a generous handful of parmesan to get those crispy edges. And with lots of light yet flavorful toppings, this dish scratches the pizza itch without all the "gut luggage and lethargy," as Beauty Chef founder Carla Oates puts it, of the traditional gluten- and dairy-packed version we grew up with.
1. Place a pizza stone or upturned baking tray in the oven and preheat the oven to 220°C (430°F). Lightly grease and line a 26 cm (10 ¼ in) pizza tray with baking paper.
2. Bring a large saucepan of water to the boil. Line a colander with muslin (cheesecloth) or a clean dish towel.
3. Place the cauliflower in a food processor and blend until finely chopped into tiny grains.
4. Cook the cauliflower for 1 minute, so it still has a bite to it but is not completely raw. Pour into the prepared colander and set aside to drain and cool slightly.
5. To prepare the pizza sauce, heat the oil in a small saucepan over low heat. Cook the garlic until softened. Add the tomatoes and herbs and cook for 15 minutes, or until softened and the liquid has reduced to make a thick sauce. Purée using a stick blender or food processor. Season with salt and pepper.
6. Bundle the cauliflower up in the muslin cloth or dish towel and squeeze out any extra liquid.
7. To prepare the base, place the cauliflower and the remaining ingredients in a medium bowl and mix well to combine. Spoon the mixture in the centre of the pizza tray and press out to make an even base. Place the pizza tray onto the preheated stone or upturned baking tray. Bake for 15-20 minutes, until golden brown and beginning to crisp up.
8. Spread the prepared sauce over the base. Scatter the roasted capsicum, artichoke, goat's cheese, and olives on top. Cook for a further 10 minutes, or until the cheese softens and begins to turn golden brown.
9. Remove from the oven, top with rocket and scatter with pine nuts. Drizzle with oil. Slice to serve.
Originally featured in goop Cookbook Club: The Beauty Chef