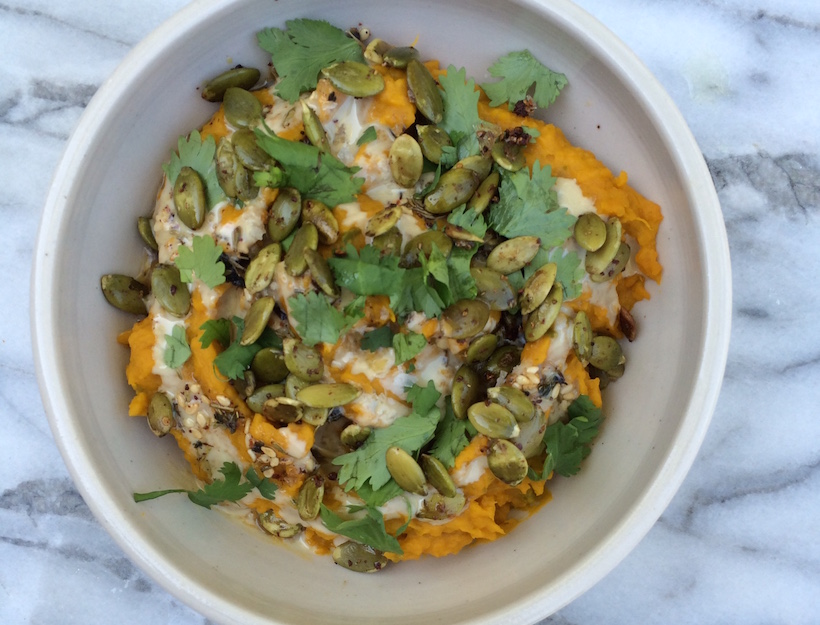 Mashed Kabocha Squash
Like potatoes, Japanese kabocha squash is quite starchy, which makes it perfect for mashing. We topped ours with tahini, za'atar, cilantro, and spiced pumpkin seeds, but it's great plain or with whatever toppings strike your fancy.
2 pounds kabocha squash (about half a medium squash), peeled, seeded and cut into 1-inch pieces
salt and pepper
4 tablespoons butter
¼-½ cup half and half or whole milk
4 tablespoons tahini, optional
4 tablespoons chopped cilantro, optional
2 teaspoons za'atar
¼ cup pumpkin seeds toasted with a pinch of garam masala and a pinch of Aleppo pepper
1. Place kabocha in a pot with salted water, bring to a boil, lower temp to maintain a steady simmer and cook 20 minutes, or until very tender.
2. Drain squash, return to pot, and use a potato masher to mash. Add butter and season with salt and pepper to taste.
3. Add half and half or milk a little at a time until you achieve desired texture.
4. Garnish with tahini, cilantro, za'atar, and toasted pumpkin seeds (optional).
Originally featured in Seasonal Ingredient: Mashed Kabocha Squash