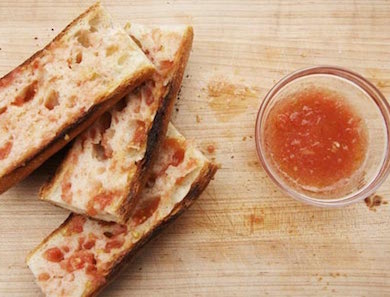 This approach is genius. Instead of rubbing the tomato on the bread, as per tradition, you simply make a raw sauce by grating the tomato. It's a lot easier and a lot less wasteful.
1. Cut the baguette in half lengthwise and then cut each half into four pieces. Grill the bread over medium-high heat or brown in your toaster.
2. Meanwhile, cut each tomato in half and grate on the coarse side of a box grater into a bowl. Grate until all the seeds, juice and pulp are pressed through (discard the skins). Add the garlic and olive oil and season to taste with salt and pepper. You can add more garlic if you like. Mix the sauce together and spoon it over the grilled bread, sprinkling each piece with just a bit more coarse salt and drizzling with extra oil.
Originally featured in Spanish Recipes