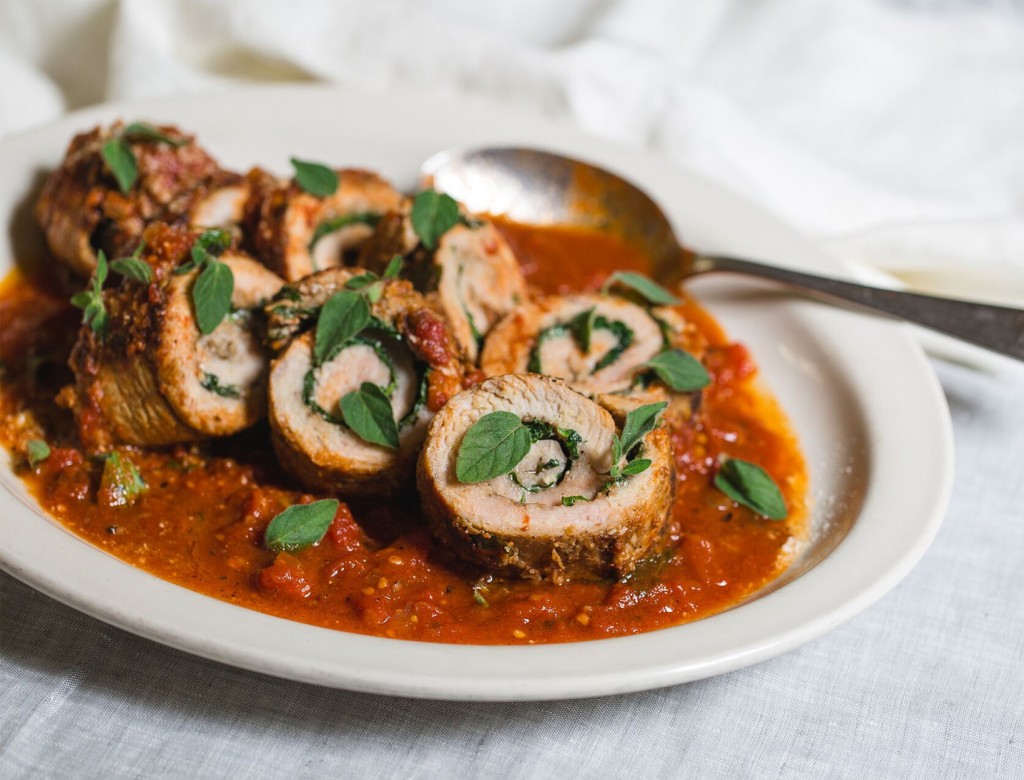 "My grandpa Laframboise made this dish for special occasions and I simply cannot find any historic reference for the name anywhere. It is delish and simple and speaks and tastes like Grandpa Leon's kitchen which is why I love it." – Mario Batali
1. Pound each piece of the veal to a consistent flatness – about ¼ inch thick.
2. In a medium bowl, combine the parsley, cheese, and nutmeg. Stir until well blended. Season the meat with coarse salt and evenly divide the parsley mixture over the veal, spreading it to form a thin layer on top of each piece.
3. Roll up each piece like a jelly roll and tie them securely with two pieces of butcher's twine or 2 toothpicks. Season the outside of the rolls with salt and pepper. Place the flour in a shallow bowl and dredge the rolled veal in the flour.
4. In a 12- to 14-inch skillet, heat the olive oil over medium-high heat until almost smoking. Place the rolls in the pan and brown the rolls for 4-6 minutes, turning them every 2 minutes, until deeply caramelized and browned. Transfer the browned rolls to a plate and set aside.
5. Drain most of the juices from the pan to the plate with the veal rolls. Add the white wine and tomato sauce and bring to a boil. Cook 2-3 minutes and then return the veal rolls to the pan and simmer for about 4 minutes, until the veal is just cooked through and the sauce is glossy and has the consistency of a thin gravy. The rolls should have an internal temperature of about 135°F.
6. Sprinkle with fresh oregano, then place on a platter. Serve with red pepper flakes, a drizzle of olive oil over each roll, and pecorino on the side.
Originally featured in Mario Batali Eats America