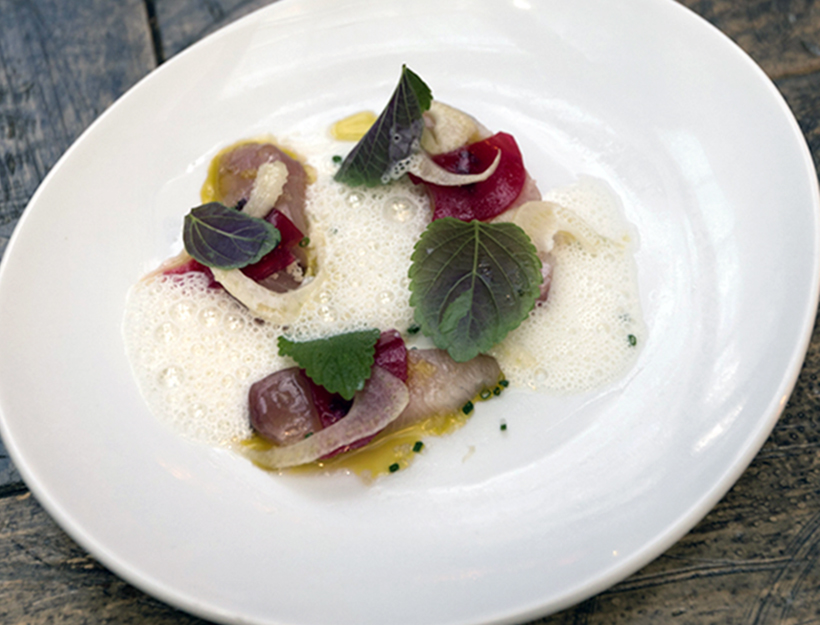 Marinated Yellowtail with Plums, Fennel and Pistachio
This light and refreshing starter is perfectly balanced and actually pretty easy to prepare. Just be sure you get the freshest fish you can find.
1 side Hamachi or yellowtail
Fleur de sel
juice of 2 limes
olive oil
3 red flesh black plums
1 head fennel
1 piece fresh horseradish
2 ounces pistachio oil, store bought
Shiso leaves
1. Begin by cleaning the side of Hamachi, removing all skin, bloodline and bones.
2. With a clean cutting board, slice into 1/8 inch slices, 4 per plate. Season the slices with sea salt, lime juice and olive oil and arrange on plate.
3. With a mandolin, slice paper thin slices of plum and fennel and arrange a few pieces on top of each fish.
4. Grate the fresh horseradish on each plate and finish with a few drops of pistachio oil and garnish with shiso leaves.
Originally featured in DIY Boka's Cheesy Pasta (and More) at Home