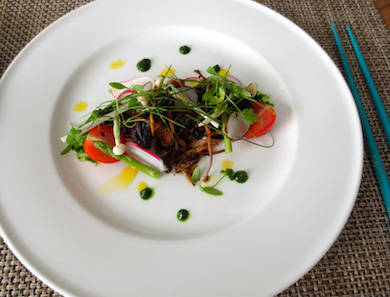 Marinated Wild Mushrooms
These mushrooms are marinated in nama shoyu (raw soy sauce) and sesame oil overnight, then dehydrated for an intense flavor.
2 cups wild mushrooms
½ cup nama shoyu (can be found in most local health food stores)
¼ cup sesame oil
½ cup packed wild garlic
¼ cup olive oil
small handful Thai asparagus (thinner and milder than the traditional), sliced into bite-size pieces
1 ½ tbsps tamarind paste, soaked in warm water
8-12 enoki mushrooms
1 radish, very thinly sliced
4 grape tomatoes, sliced in half lengthwise
garlic cress for garnish (any cress will work)
pink Himalaya salt
1. Place mushrooms in a large bowl or container. Pour over nama shoyu and sesame oil, cover and let marinate overnight.
2. Pop mushrooms into a dehydrator for 8 hours.
3. Place wild garlic and olive oil in a food processor and puree until smooth.
4. To arrange: Smear the bottom of a serving plate with the wild garlic puree. Add dehydrated mushrooms on top and sprinkle over the asparagus, enoki mushrooms, radish, tomatoes and cress. Season with Himalaya salt to taste.
Courtesy of Chef Darryl Pretorius
*This recipe has not been tested by the goop test kitchen.
Originally featured in Cooking in the Raw