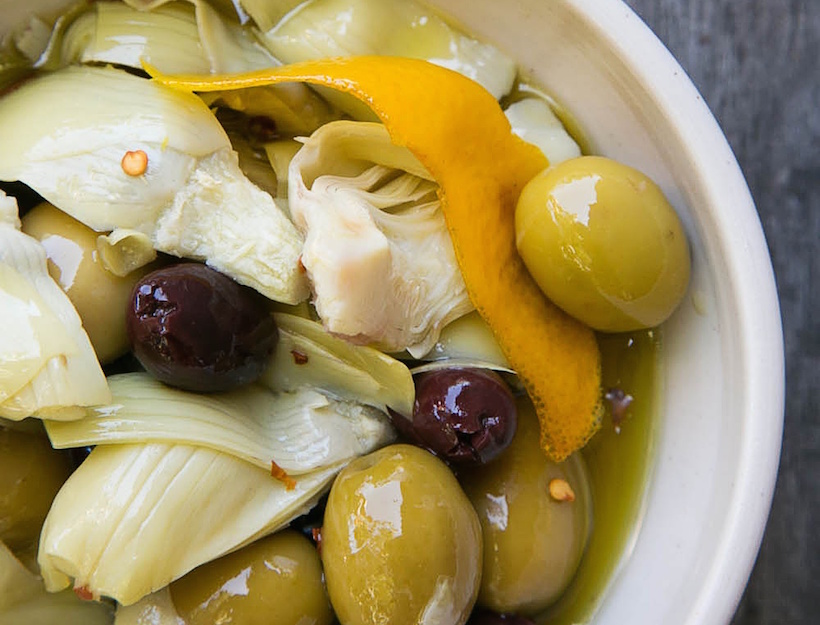 Marinated Olives and Artichoke Hearts
This gets better as it sits, so try to make it at least a day in advance. We particularly like using Castelvetrano olives for this recipe, but any mix will work.
¾ cup olive oil
3 cloves garlic, peeled and smashed
½ teaspoon chili flakes
peel of 1 lemon, pith removed
peel of 1 orange, pith removed
1 tablespoon roughly chopped fresh thyme leaves
1 (14-ounce) can or jar artichoke quarters, drained and rinsed
1 (5-ounce) jar olives, drained (about 1½ cups)
1. Heat the olive oil, garlic, chili flakes, citrus peels, and thyme leaves in a small saucepan over medium heat. As soon as the oil heats up and the garlic begins to sizzle, turn off the heat.
2. Let the oil cool and infuse for 5 minutes, then pour over the artichoke quarters and olives and mix well.
3. When completely cool, cover and store in the fridge.