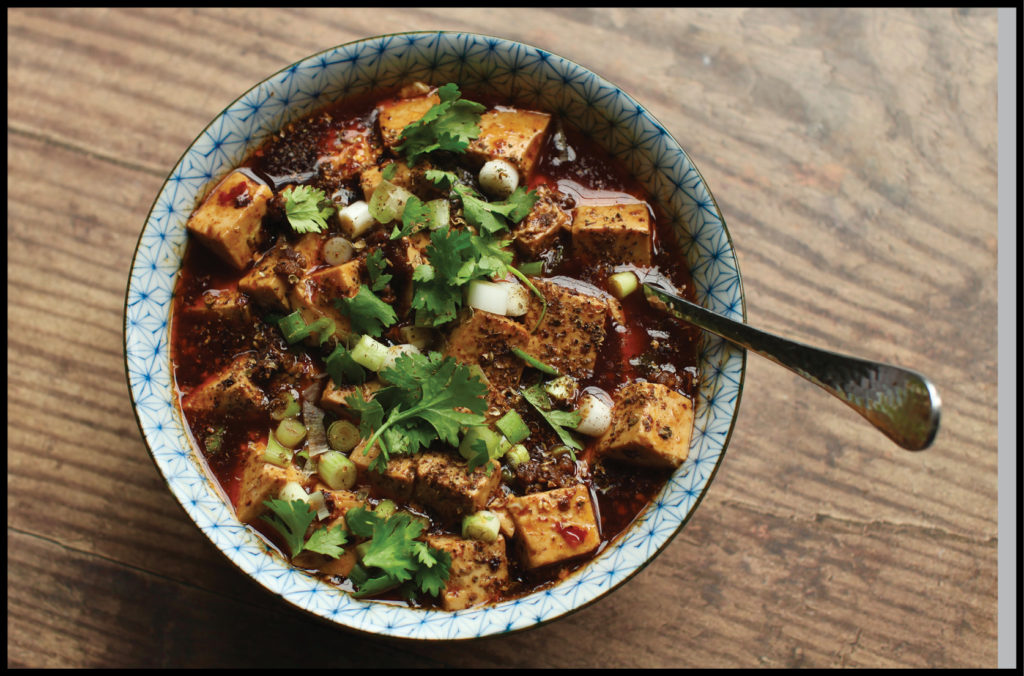 "This is it. My favorite dish in the world and the grandmother of Sichuan cuisine. Translated literally as 'pockmarked grandmother's tofu,' its totally apocryphal origin story is identical to a half dozen other food origin stories: it starts with hungry crowds and a cook with few ingredients but plenty of creativity. The result is an inexpensive stew that uses simple ingredients—soft tofu, ground meat (traditionally beef, but frequently pork), fermented chile bean paste, a handful of Sichuan peppercorns, and plenty of red-hot chile oil—to create simple, soul-satisfying fare.
"You can find mapo tofu on the menu at almost any restaurant in China, especially in Sichuan, but this version, served in a screaming-hot cast iron bowl, was easily my favorite. Tender cubes of soft tofu laced with tender ground beef under a bubbling layer of chile oil, fragrant with toasted Sichuan peppercorn and fermented horse beans. It didn't have the blast of chile heat you might expect from looking at it. Rather, it has a more subtle, layered heat with chiles that come through alternately as sweet and hot with the rich, almost raisin-like flavor of dried fruit." —López-Alt
1. Heat half of the Sichuan peppercorns in a large wok over high heat until lightly smoking. Transfer to a mortar and pestle. Pound until finely ground and set aside.
2. Add the remaining Sichuan peppercorns and the oil to the wok. Heat over medium-high heat until lightly sizzling, about 1½ minutes. Remove the peppercorns with a spider and discard, leaving the oil in the pan.
3. Combine the cornstarch and cold water in a small bowl and mix with a fork until homogenous. Set aside.
4. Heat the oil left in the wok over high heat until smoking. Add the beef and cook, stirring constantly for 1 minute. Add the garlic and ginger and cook until fragrant, about 15 seconds. Add the chile bean paste and cook until the oil starts to turn red, about 30 seconds. Add the wine, soy sauce, and chicken stock and bring to a boil. Pour in the cornstarch mixture and cook for 30 seconds, until thickened. Add the tofu and carefully fold it in, being careful not to break it up too much. Fold in the chile oil and half of the scallions and simmer for 30 seconds longer. Transfer immediately to a serving bowl and sprinkle with the remaining scallions and the toasted ground Sichuan pepper. Serve immediately with steamed rice.
Excerpted from The Wok: Recipes and Techniques by J. Kenji López-Alt. Copyright © 2022 by J. Kenji López-Alt. Used with permission of the publisher, W. W. Norton & Company, Inc. All rights reserved.
Originally featured in Fast, Hot, and Flavorful Meals from The Wok