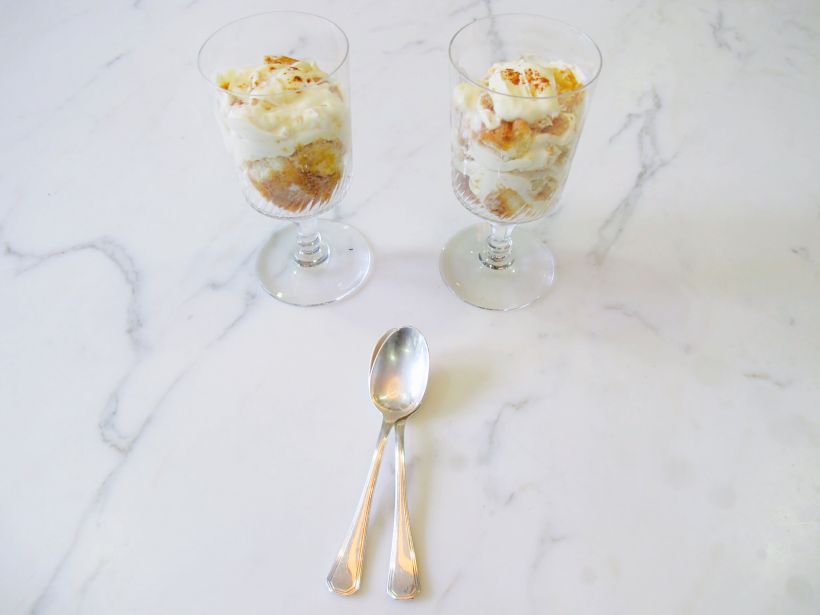 Kids love this easy, semi-homemade tiramisu. The seasonal twist of maple syrup and the subtle warm spice of garam masala makes it popular with adults, too.
1.In a large mixing bowl (or the bowl of an electric mixer), whisk the heavy cream until it holds firm peaks. Fold in prepared vanilla pudding and Greek yogurt. Add 1 tablespoon maple syrup.
2.Combine coffee and remaining 3 tablespoons of maple syrup in a shallow bowl. Quickly dip each ladyfinger in the coffee mixture, then arrange in the bottom of an 8×8" baking dish. Continue this process until you have used 13 ladyfingers, and the entire bottom of the dish is covered (you might have to break some up to make them fit)
3.Evenly spread half of the pudding mixture over the ladyfingers, smooth with a spatula, and dust with a very light layer of garam masala.
4.Repeat this process with another layer of coffee dipped cookies, the rest of the pudding mixture, and a final dusting of garam masala.
5.Cover with plastic wrap and refrigerate for at least 3 hours.  Eat right out the dish, or serve in glasses for a slightly more elegant twist.
Originally featured in Unhealthy, No-Bake Holiday Desserts