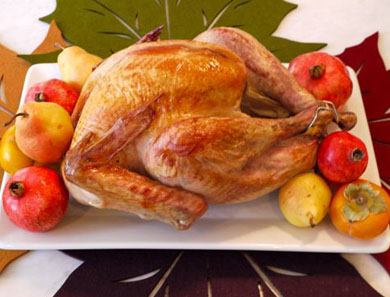 This recipe comes to us from Catherine of Weelicious.
1. Place the maple syrup and salt in 4 cups of hot water. Stir until the salt dissolves.
2. Place the maple syrup mixture in a large stock pot with a gallon of cold water, the juice of the orange, the orange halves (once juiced, of course), the onion, cloves, peppercorns, and star anise and stir to combine.
3. Wash the turkey inside and out (putting aside the neck and liver to make gravy) and place breast side down in the stockpot with the brine (you want the brine to just cover the turkey).
4. Refrigerate 18 hours to 2 days. (Or, you can set it in a cool safe place outdoors as long as it's below 55 degrees F outside).
5. Preheat the oven to 450 degrees F.
6. Take the turkey out of the brine and rinse inside and out with cold water, discarding brine.
7. Place the turkey on a roasting rack inside a wide, low pan and blot the turkey with a paper towel.
8. Tuck back the wings (or cover with small pieces of foil) and rub the skin of the turkey with the oil.
9. Roast on the lowest rack of the oven for 30 minutes and then place a piece of foil just over the breast of the turkey to cover (the breast cooks faster than the legs and wings so this process helps it to cook more evenly).
10. Pour 1 cup of water in the pan, reduce temperature to 350 degrees F and continue to roast 1 hour.
11. Remove the foil from the breast, turn the pan so the other side of the breast is towards the back of the oven (most ovens' heat comes from the back, so turning the pan prevents overcooking) and cook for another hour to 90 minutes. Insert a meat thermometer into the deepest part of the thigh (avoiding the bone) until you reach a temperature of 160-165 degrees F. The turkey will actually continue to cook a bit more even after you take it out of the oven (the total cooking time in the oven will be 2 1/2 to 3 hours total).
12. Let the turkey rest for 20-30 minutes (this is an essential step to allow the juices to redistribute and settle).
13. Slice and serve.
Originally featured in Weelicious Thanksgiving