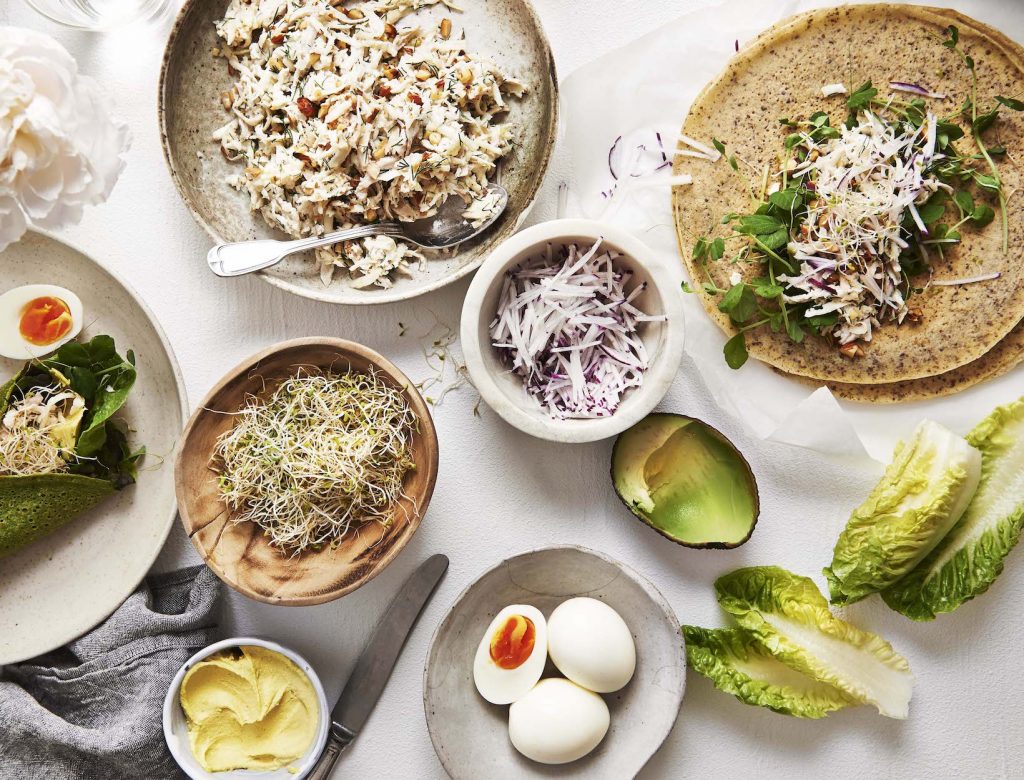 Lunch Wraps with Poached Chicken and Celeriac and Roasted Almond Remoulade
These were a huge crowd-pleaser; comprised of crunchy, creamy chicken salad remoulade, fresh veggies, and gorgeous spinach crepes (find the recipe in her book or use your favorite gluten-free tortillas as a substitute), these lunch wraps are delicious, satisfying, and packed full of nutrients.
1. To prepare the mayonnaise, place the egg yolks, vinegar, and mustard in a small food processor and blend to combine. With the motor running, gradually pour in the oil in a thin, steady stream, until fully incorporated and thick and creamy. Season with salt and pepper. Transfer into a small serving bowl and set aside.
2. To poach the chicken, bring a small saucepan of water to a simmer. Add the chicken breast and gently simmer for 6 minutes. Turn off the heat and leave the chicken in the water for 15 minutes, to finish cooking. Once cool enough to handle, shred the chicken into strips and set aside.
3. To prepare the celeriac and roasted almond remoulade, combine the celeriac, mayonnaise, lemon juice, and oil in a medium bowl and mix well. Add the shredded chicken and roasted almonds and stir to combine. Season with salt and pepper.
4. To assemble, spread the remoulade down the centre line of the wraps. Top with snow pea sprouts and radish. Fold the sides in and roll up to enclose.
Originally featured in goop Cookbook Club: The Beauty Chef