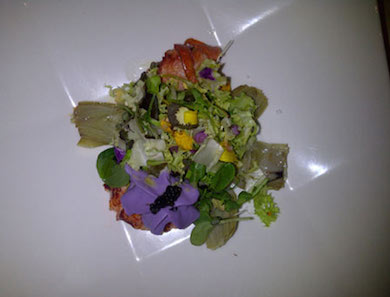 Lobster Salad with Purple Potato Foam & Italian Caviar
I loved my meal at the Terrazza Danieli so much that I asked for the recipes. They're a bit complicated (N2O anyone?) but they're easy to adjust. I love knowing how they make spaghettini from scratch but you can always buy fresh pasta from your local shop, or use dry pasta from the grocery store.
1 L water
2 stems of celery
1 carrot
1 onion
250 ml white wine
salt, pepper
1 lobster
For Salad:
Mixed loose leaf salad
Fresh mixed sprouts
Edible flowers
For Purple Potato Foam:
2 medium purple potatoes
Olive oil
Salt
Pepper
For Sauce:
Salt
1 tsp extra virgin olive oil
Fresh thyme
Fresh majoram
For Pickled Artichokes:
500 ml water
500 ml white wine vinegar
2 artichokes from Sant'Erasmus
To Decorate:
Black caviar (optional)
Maldon salt
Place all ingredients except the lobster in a large saucepan. Bring to boil. Drop in the lobster and simmer for 4 minutes. Remove the lobster from the broth, remove its shell, and cut the tail in half, then in 2 cm medallions. Set aside.
For Salad:
Place all salad ingredients in a bowl and dress with vinaigrette made of 1 part lemon to 2 parts extra virgin olive oil. Set aside.
For Purple Potato Foam:
Peel the potatoes and cut in half. Place in a saucepan of cold water and bring to the boil. Simmer for approximately 20 minutes or until cooked. Drain. Mash the potatoes together with a little olive oil and salt, pepper to taste. Place the mashed potatoes in a canister, close the canister and charge it with a N2O catridge. Set aside.
For Sauce:
Whisk all ingredients together to make a sauce.
For Pickled Artichokes:
Clean and trim artichokes removing tough outer leaves and its heart. Combine water and white wine vinegar in a saucepan and bring to a boil. Add the artichokes and boil for 20 minutes or until just tender. Drain and cut into quarters.
To Decorate:
To assemble the salad, place the lobster pieces under a salamander or warming grill for 2 minutes. Arrange lobster pieces in the middle of the serving plates and dress with the sauce. Decorate each plate on one side with a shot of purple potato foam and garnish the foam with a teaspoon of black caviar. Place a handful of dressed salad on the other side of each plate and arrange the artichoke quarters over the salad. Complete the plates with a light sprinkling of Maldon salt.
Originally featured in Pasta Recipes from my Favorite Italian Hotels