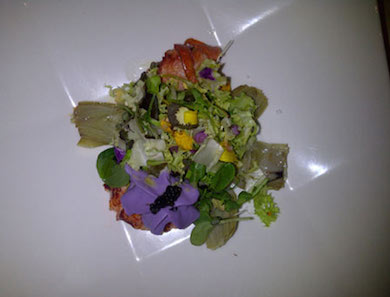 Lobster Salad with Purple Potato Foam & Italian Caviar
I loved my meal at the Terrazza Danieli so much that I asked for the recipes. They're a bit complicated (N2O anyone?) but they're easy to adjust. I love knowing how they make spaghettini from scratch but you can always buy fresh pasta from your local shop, or use dry pasta from the grocery store.
Place all ingredients except the lobster in a large saucepan. Bring to boil. Drop in the lobster and simmer for 4 minutes. Remove the lobster from the broth, remove its shell, and cut the tail in half, then in 2 cm medallions. Set aside.
For Salad:
Place all salad ingredients in a bowl and dress with vinaigrette made of 1 part lemon to 2 parts extra virgin olive oil. Set aside.
For Purple Potato Foam:
Peel the potatoes and cut in half. Place in a saucepan of cold water and bring to the boil. Simmer for approximately 20 minutes or until cooked. Drain. Mash the potatoes together with a little olive oil and salt, pepper to taste. Place the mashed potatoes in a canister, close the canister and charge it with a N2O catridge. Set aside.
For Sauce:
Whisk all ingredients together to make a sauce.
For Pickled Artichokes:
Clean and trim artichokes removing tough outer leaves and its heart. Combine water and white wine vinegar in a saucepan and bring to a boil. Add the artichokes and boil for 20 minutes or until just tender. Drain and cut into quarters.
To Decorate:
To assemble the salad, place the lobster pieces under a salamander or warming grill for 2 minutes. Arrange lobster pieces in the middle of the serving plates and dress with the sauce. Decorate each plate on one side with a shot of purple potato foam and garnish the foam with a teaspoon of black caviar. Place a handful of dressed salad on the other side of each plate and arrange the artichoke quarters over the salad. Complete the plates with a light sprinkling of Maldon salt.
Originally featured in Pasta Recipes from my Favorite Italian Hotels