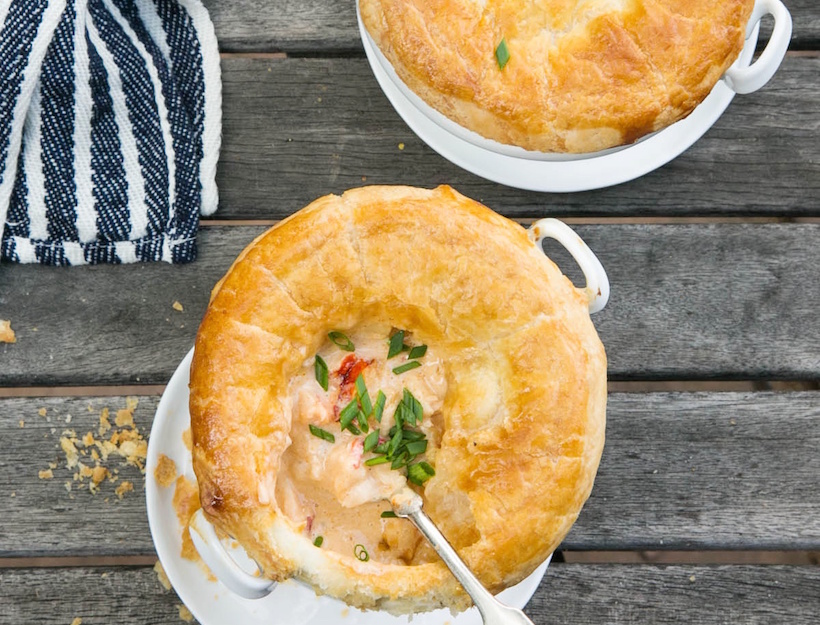 Lobster Potpie
Everybody needs a little indulgence once in a while, and this one is totally worth it. You can freeze these (unbaked) and have them ready and waiting for a cozy night.
3 tablespoons unsalted butter
3 cloves garlic, minced
1 shallot, minced
1 small or medium yellow onion, minced
¼ cup cognac
2 tablespoons flour, plus to roll out dough
1¾ cups heavy cream
1 pound raw fresh knuckle and claw lobster meat, cut into ¾-inch pieces
1 teaspoon cayenne pepper
kosher salt and freshly ground black pepper, to taste
1 14-ounce package puff pastry
1 egg, beaten
1. Preheat oven to 425°F.
2. Melt the butter in a 4-quart saucepan over medium-high heat. Add the garlic, shallot, and onion and cook until golden, 5 to 7 minutes.
3. Add the brandy and cook until reduced by half, 1 to 2 minutes.
4. Whisk in the flour and cook for 2 minutes. Add the cream and bring to a boil. Cook, stirring occasionally, until sauce is slightly thickened, 3 to 4 minutes.
5. Stir in the lobster, cayenne, salt, and pepper.
6. Divide lobster mixture among 4 8-ounce ramekins set on a rimmed baking sheet. On a lightly floured surface, roll the pastry into a 14-inch square and cut out 4 4½-inch circles.
7. Brush the edges of the ramekins with egg, place 1 pastry circle over each, and press to seal. Brush the pastry all over with the egg and bake until the top is golden and the filling is bubbly, 20 to 25 minutes.
Originally featured in Dungeness Crab Rolls and Lobster Potpies