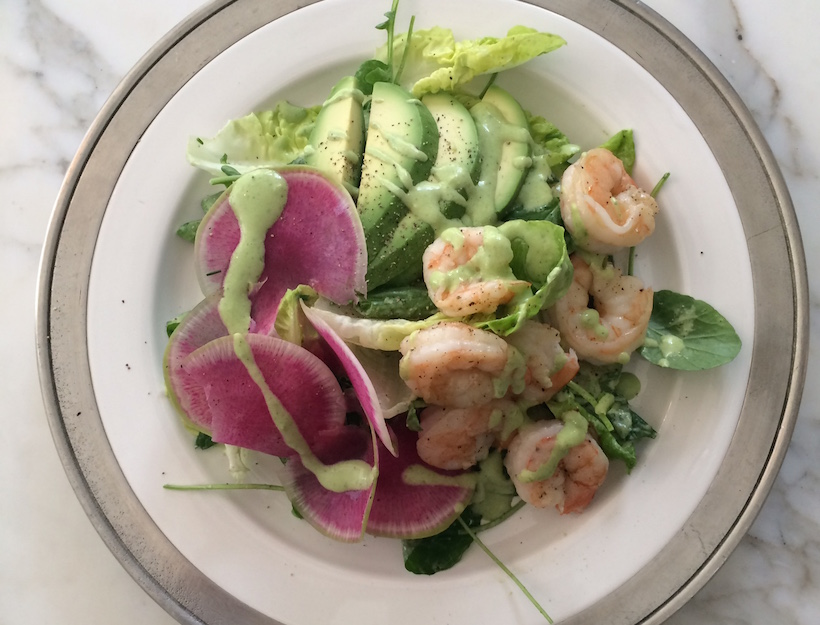 Little Gem Salad with Roasted Shrimp
This salad of crunchy veggies, roasted shrimp, and an herby yogurt dressing makes a quick and healthy lunch option.
for the salad:
2 heads Little Gem lettuce, leaves separated, washed and dried
1 small handful watercress, washed and dried
1 cup snap peas, cut in half on the bias
½ cup thinly sliced English cucumber
2 tablespoons chopped fresh chives
2 tablespoons chopped fresh mint leaves
½ avocado, thinly sliced
14 large shrimp, peeled and deveined
10 thin slices watermelon radish
for the dressing:
2 tablespoons yogurt
2 tablespoons vegenaise
1 scallion
1 packed teaspoon whole tarragon leaves
1 packed tablespoon whole basil leaves
4 tablespoons olive oil
1 tablespoon water
2 teaspoons lemon juice
1 very small clove garlic, finely minced
salt and pepper
1. Preheat the oven to 400°F. Toss the shrimp with a little olive oil and a generous pinch of salt and pepper. Place on a baking sheet and roast in the oven for 7 minutes, or until evenly pink and just cooked through. Remove from the oven and set aside to cool.
2. To make the dressing, combine all ingredients in a powerful blender and blitz until smooth. Add salt and pepper to taste.
3. When ready to eat, combine the Little Gem leaves, watercress, snap peas, cucumber, and fresh herbs in a large bowl. Toss with half the dressing, adding salt and pepper if desired. Divide the salad between 2 plates and top each with half the avocado, shrimp, and watermelon radish. Serve with the remaining dressing on the side.
Originally featured in Easy & Quick: Little Gem & Shrimp Salad