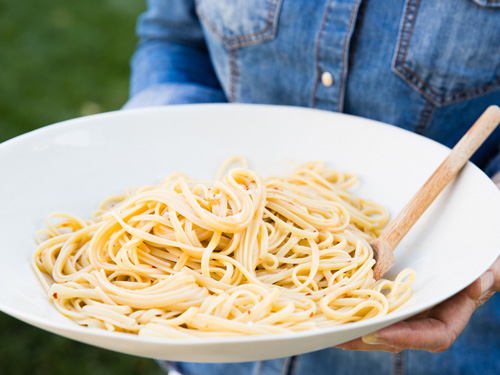 Linguine, Sea Urchin, Chili
A delicious recipe from Roberta's Cookbook, which we test drove for Cookbook Club.
1. Put the sea urchin tongues in a blender with a couple of splashes of olive oil, and blend it for a few seconds until it's a smooth puree with the consistency of melted ice cream. Put the mixture in a refrigerator.
2. Put a pot of heavily salted water on to boil, and put three or four shallow bowls for serving in a 200°F oven to warm.
3. When the water is boiling, add the pasta to it. At the same time, coat a large sauté pan with olive oil. Set the pan over medium heat and add the garlic. Let the garlic color, and when the pasta is just about al dente, remove the garlic from the sauté pan and discard it, and take the sea urchin mixture out of the refrigerator.
4. Transfer the pasta from the pot to the sauté pan with tongs, and lower the heat. Add a splash of pasta water to the pan and give the pan a shake. Add a generous pinch of chili flakes.
5. Remove the pan from the heat and add another splash of pasta water and the sea urchin mixture, tossing it gently with the pasta and putting the pan back on the heat for a couple of seconds and then removing it again. You don't want to cook the sea urchin at all—much the way you don't want to cook the eggs when you're making a carbonara. You want the sauce to have a creamy consistence; if it doesn't, add a little more pasta water. When the pasta is well coated with the sauce, transfer it to the warmed shallow bowls. Sprinkle with a little sea salt over each bowl and serve.
Recipe reprinted with permission from Roberta's Cookbook.
Originally featured in The goop Cookbook Club: Roberta's