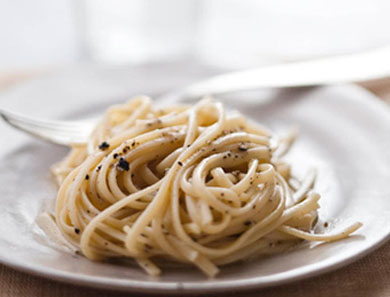 It doesn't get more authentic Italian than a simple Cacio e Pepe. This makes for a perfect easy and quick weekday dinner.
1. Bring 6 quarts of water to a boil in a large pot. Add 2 tablespoons salt. Drop in pasta.
2. In a large sauté pan, heat the olive oil and butter over low heat until just melted. Turn off the heat.
3. When pasta is about one minute short of package directions for al dente, turn the heat back on under the saute pan. Take 2 ladles of pasta cooking water and add to the oil and butter in the saute pan and bring it to a boil. Add a small handful of the cheeses and allow to melt into the butter.
4. Drain the noodles, reserving a few cups of the cooking liquid. Drop the noodles into the saute pan and toss with black pepper, using tongs. Add in 2 more ladles of pasta water.
5. Add rest of the cheeses, turn off the heat, allow them to melt into the top of the pasta, then toss well. Drizzle with extra-virgin olive oil. Keep tossing, adding another ladleful of pasta cooking water, until pasta is well coated and a sauce has formed.
6. Serve with additional grated Pecorino and freshly ground black pepper.
Recipe courtesy of Mario Batali Cooks!
Originally featured in Mario Batali Cooks