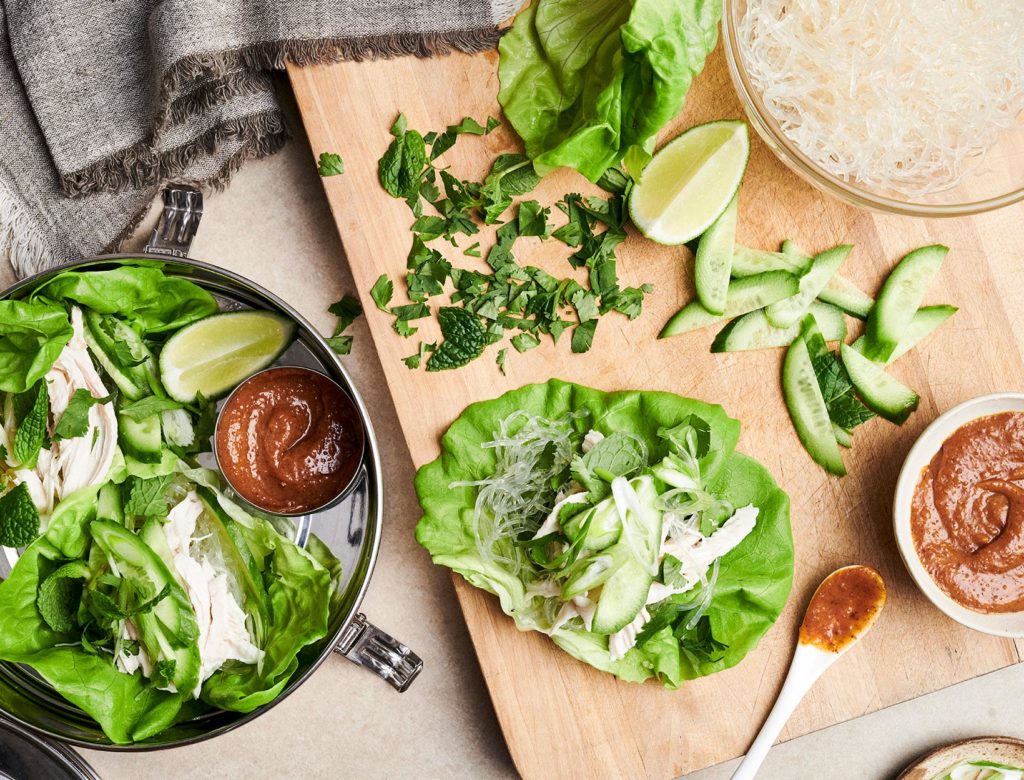 Lettuce Cups with Chicken, Kelp Noodles, and Red Curry Almond Butter
We love a lettuce cup—it's a great vehicle for all types veggies and protein. This version has a bit more heft because of the kelp noodles, and the addictive sweet-savory almond butter sauce rounds the whole thing out.
12 ounces kelp noodles
juice of 1 lemon
water
pinch of salt
4 to 6 large leaves butter lettuce
½ cup shredded cooked chicken
1 Persian cucumber, thinly sliced
2 scallions, thinly sliced
¼ cup roughly chopped cilantro
2 tablespoons mint leaves
lime wedges
1. First, soak the kelp noodles. Completely cover them with warm water in a bowl. Add the juice of 1 lemon and a generous pinch of salt. Let stand for 10 to 15 minutes or until the noodles become tender. Then drain, cut in half with kitchen scissors (otherwise the noodles will be too long and unruly to eat), and set aside.
2. Fill each butter lettuce cup with some kelp noodles, chicken, cucumber, and scallion, then drizzle with the almond butter dip. Top with cilantro and mint and finish with a squeeze of lime.
Originally featured in The Annual 5-Day Detox