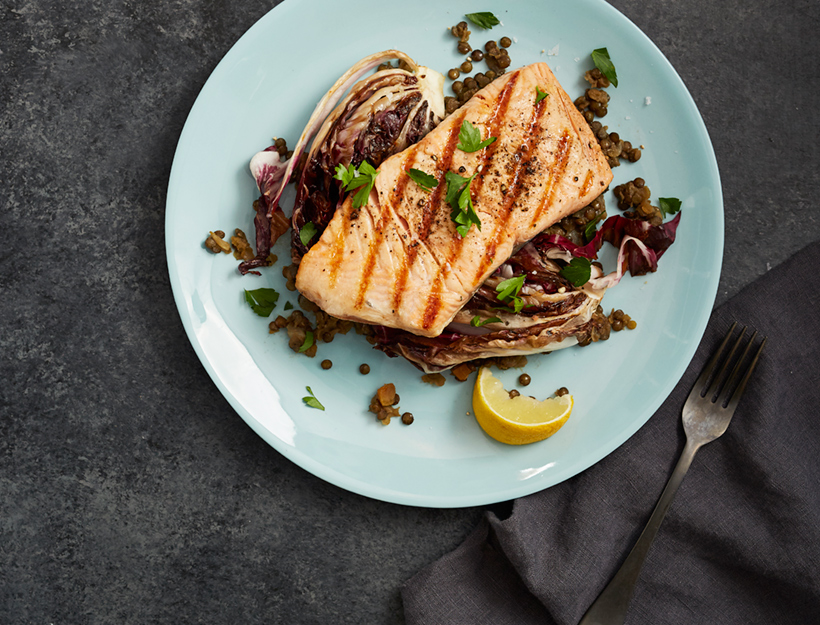 Lentils with Salmon & Grilled Radicchio
Restaurant-quality food at home always feels like a treat, and this dish certainly qualifies. This makes extra lentils, which we recommend turning into a soup for lunch the next day by adding a little fresh ginger and chicken bone broth.
1. Heat olive oil in a medium dutch oven over medium heat. Add onion, carrot, and celery and cook for 5 minutes. Add garlic and cook another 2 minutes.
2. Add lentils, broth, and ½ teaspoon salt. Bring to a boil, then reduce to a simmer, cover and cook 20-25 minutes (or until the lentils are cooked but still have some bite), stirring occasionally.
3. Heat a grill pan over medium high heat and brush it lightly with olive oil.
4. Toss the radicchio with a little olive oil and some salt and pepper.
5. Season the salmon with salt and pepper. Place the salmon and radicchio wedges on the pan and grill for 2 to 3 minutes, or until salmon is cooked to your liking and the radicchio has nice grill marks.
6. Place one cup of the lentils in your serving dish and top with grilled radicchio.
7. Drizzle over the balsamic vinegar, then place the grilled salmon on top.
8. Finish with some olive oil, a pinch of sea salt, and serve with a lemon wedge on the side.
Originally featured in The Annual goop Detox 2017