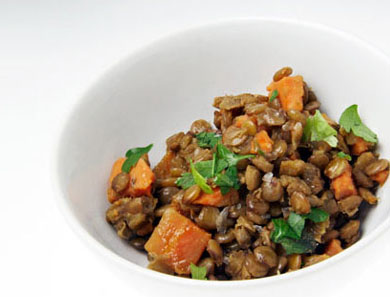 Lentil & Sweet Potato Salad
This savory, satisfying salad offers an earthy balance to the start of any meal. It's also great served as a side dish or light lunch.
2 sweet potatoes (each about 2/3 pound), peeled and cut into 1/2″ pieces
1 1/2 tablespoons olive oil, plus 2 tablespoons
1 1/2 tablespoons real Vermont maple syrup
2 pinches red chili flakes
1 yellow onion, cut into 1/4″ dice
2 large carrots, cut into 1/2″ dice
2 cloves garlic, finely minced
1/4 teaspoon dried oregano
1/4 teaspoon freshly ground black pepper
leaves from 2 sprigs thyme
2 cups green lentils, rinsed and drained
a healthy drizzle of your finest, best quality olive oil
coarse sea salt
2 tablespoons torn parsley leaves
1. Preheat the oven to 400ºF.
2. Toss the sweet potatoes with 1 1/2 tablespoons of olive oil, the maple syrup and one pinch of chili.
3. Roast, stirring, until caramelized and a paring knife slips easily through a piece, about 20 minutes.
4. Meanwhile, heat the additional 2 tablespoons of olive oil in a large saucepan over medium-low heat.
5. Add the remaining pinch of chili, onion, carrot, garlic, oregano, pepper and thyme. Cook for 10 minutes, stirring occasionally, until the vegetables are a bit softened and just beginning to brown.
6. Add the lentils and four cups of cold water. Bring to a boil over high heat, turn down to low, cover, and simmer for about 40 minutes or until the lentils are soft.
7. Let the lentils cool to room temperature, then fold the lentils together with the sweet potatoes.
8. Drizzle with your good olive oil, sprinkle with salt and parsley.
Originally featured in Antipasti