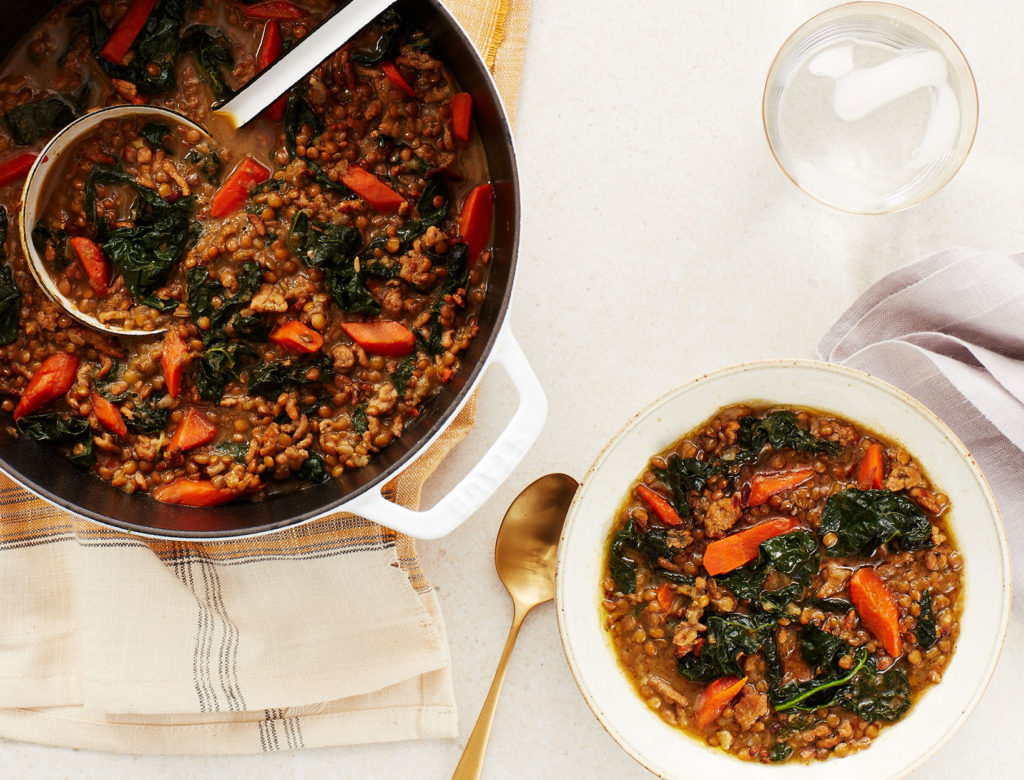 Lentil and Chicken Sausage Stew with Kale
This stew is super cozy. It's our favorite kind of recipe to include in detox because we'd probably cook it the same way if this recipe were in a non-detox story (okay, maybe we'd add Calabrian chilies and parm).
extra virgin olive oil
1 pound fresh chicken sausage, casings removed (if you can't find sausage, 1 pound ground chicken seasoned with extra fennel seed and garlic will also work)
1 yellow onion, diced
2 cloves garlic, minced
1 teaspoon chopped fresh rosemary
¼ teaspoon fennel seeds
3 carrots, cut into ½-inch bite-size pieces
1 cup brown lentils, rinsed
6 cups low-sodium chicken or vegetable stock
1 bunch Lacinato kale, roughly torn
kosher salt
1. Heat a heavy-bottomed pan over medium-high heat. Add a few glugs of olive oil, then add the chicken sausage, breaking it up into bite-size pieces. Let the chicken brown, but don't cook it all the way through—you just want some color. Remove the chicken with a slotted spoon and set aside.
2. If needed, add a bit more oil to the pan, then add the onion, garlic, herbs, and a pinch of salt. Let that cook and soften for about 5 minutes. Add the carrots and cook for another 5 minutes. Add the lentils and chicken and stir to combine. Add the stock and bring to a boil, then reduce and cover. Cook for 30 to 45 minutes or until the lentils are tender. Fold in the torn kale and cook for another 5 to 10 minutes until it's wilted. Taste and season accordingly.
Originally featured in The Annual New Year Detox